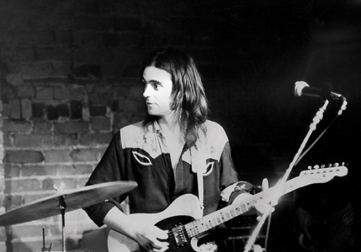 Rock and roll legend Terry Reid is appearing at Drummonds on Sunday 14th October.
Joe Whimster
writes.
Quality transcends generations.  The celebrity endorsements Terry Reid has received from those at the cutting edge of Rock and Roll have continued for decades and confirm his enduring talent and position as one of the UK's finest performers ever.
Famously, Jimmy Page identified him as his first choice to front Led Zeppelin and it was Terry himself who suggested Robert Plant as a suitable substitute.
Aretha Franklin was also a fan, stating in 1968 that,
"… there are only 3 things happening in England; The Beatles, The Rolling Stones and Terry Reid." 
More recently, Jack White and his Raconteurs covered Terry's Rich Kid Blues and DJ Shadow had Terry guest on the hauntingly beautiful Listen from his new Reconstructed album.  The respect Terry receives from his peers and collaborators is tangible.
Despite this, fame and fortune has somehow eluded Terry, but this only enhances the intrigue.  How could a man so immensely talented, a man so steeped in Rock history – from his breathtaking appearance at Glastonbury in 1970 to numerous film soundtracks, to albums filled with poignant beauty and heartfelt soul – be anything other than a household name?
Frankly, to anyone who has seen Terry perform, or listened to any of his tremendous back catalogue, it is one of life's greatest mysteries.
Terry returns to Aberdeen for an intimate show at Drummonds this month.  If you only make one show this year, it must be this one.
Terry Reid is truly a Rock and Roll legend and the opportunity to see talent of this magnitude does not come along often.  Join him at Drummonds in Belmont Street on Sunday 14th October from 7:00pm.
What they say about Terry:
"Terry Reid is the rare living legend whose enthusiasm for music remains unscathed and pure, nearly 50 years on."  – DJ Shadow
"….The most soulful British vocalist ever.." – The Independent
"'…Terry Reid's voice has the power to provoke an intense reaction…" – The Times

"…Astonishing by any standards: spine tingles, hair prickles on back of the neck.." – The Independent

"…When Reid bares those emotions it's heartbreakingly beautiful…" – The Guardian

"..this man should have had my life" – Robert Plant, The Joint ,Beverly Hills 2004 
For further information please contact Joe Whimster at jwhimster@gmail.com
 Comments enabled – see comments box below. Note, all comments will be moderated.