Pete Thomson reviews the recent New York Dolls concert at The Lemon Tree in Aberdeen. Photography by Dod Morrison.
It's been a long, hard road from Lexington Avenue to West North Street but, nearly 40 years since they burst out of Manhattan under the stewardship of one Malcolm Maclaren Esq., the New York Dolls hit the Lemon Tree.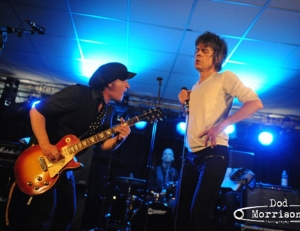 Maclaren's first project after he was kicked out of art school, the band's taste for the high life took a heavy toll.
Only David Johansen and Sylvain Sylvain survive the original line-up, and although they're no longer the mascara'd drag queens of yore, it would be dangerous to expect anything less than the dirty, streetwise rock and roll with which they made their name. And so it proves.
They kick off with Looking For A Kiss and Dolls fans rock from the start; for curious onlookers like yours truly, unfamiliar with the bulk of the band's material, the conversion takes a little longer. We're three numbers in before a smiling Johansen whips out a mouth organ and leads the crowd in a rousing chorus of We're All In Love. The ice is broken.
Dolls gigs are all about having a good time. One thing they don't do is take themselves too seriously. Where Sylvain yelps and cajoles with irreverent asides, Johansen grins and pouts good-naturedly. The latter's showmanship is the glue that holds everything together, but even if you don't love rock and roll it's hard to resist the Dolls' chaotic charm.
crazed backing vocals recall 60's girl groups, while Bo Diddley's sinuous rhythms pop up everywhere
Johansen shows off the rich blues credentials underlying his street punk bravura In Private World, but this is not just a few oldies flogging a dead horse to cover the rent. The freshness of Nobody Got No Bizness – from last year's 'Cause I Sez So collection – proves the Dolls aren't quite ready for the nostalgia circuit yet.
Sylvain reminds us what a fine guitarist he is in Stranded In The Jungle but, while second guitar Steve Conte is absent tonight, his replacement, Blondie's Frank Infante, is no slouch either and trades fiery licks with Sylvain throughout.
Speaking of guitarists, Sylvain opens a ballad with a few bars of Johnny Thunder's You Can't Put Your Arms Round A Memory, the late Doll's prophetic elegy evoking the darker side of the band's history.
The Dolls music, however, draws on glorious traditions. Often crazed backing vocals recall 60's girl groups, while Bo Diddley's sinuous rhythms pop up everywhere. One frantic medley climaxes with a thundering rendition of the great man's much-covered Who Do You Love, while no Dolls set would be complete without Pills, Diddley's barnstorming anthem to the seamier side of rock and roll.
There's no let-up and the boys race through a skanky Trash as Sylvain whips the crowd ever higher: "We're all in this together, "he screams. He's not joking either. The temperature is rising and it seems like we're just getting going when a rambunctious, metallic Jet Boy brings proceedings to a halt. There's one delirious encore of Personality Crisis, the near-capacity crowd so high nobody's giving a hoot just how loose things get. But shambolic or not, the set has been a triumph. Johansen and crew wander off wreathed in smiles, reputations and legend fully intact.