By Dave Guthrie.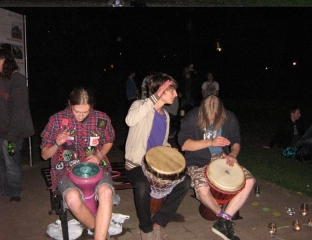 On a quiet Saturday evening a couple of weekends ago a celebration took place in Union Terrace Gardens.
As evening fell, small groups of people began arriving with picnic blankets, candles, lanterns and glow lamps to take part in 'Unplugged in the Park', a low-key event loosely organised by Friends of UTG.
Amidst a sea of shimmering lights the audience were treated to storytelling, poetry, some amateur dramatics ( rather wittily entitled 'Trees Not Wood!' ), some fine music and African drumming.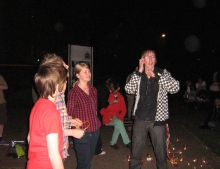 The first lantern-balloon, released perhaps too soon, rose slowly in the still night air and there was some apprehension as it hovered close to the trees and HMT but there was a collective sigh of relief – and a few cheers – as it caught the breeze and seemed to head decisively in the direction of St Nicholas House.
Later launchings were trouble free.
A couple of bobbies strolled through the Gardens, no doubt grateful for a few minute's respite from the street-level intensity of a city-centre Saturday night, as everyone enjoyed the entertainment and the spectacle.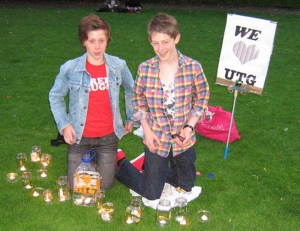 Perhaps the only sour note rose from the two under-maintained port-a-loos standing in for the Grade 'B' listed Victorian facilities which have been allowed to fall into a sad state of disrepair.
The weather was kind, with the showers not arriving until most of the crowd had quietly dispersed and the clean-up operation was well under way.
Once again, the Gardens had provided an oasis of calm in the city centre which people could enjoy fully with the minimum of fuss.