This is an attempt at satire. Any resemblance to a person living, dead or somewhere in between; competent or wholly incompetent; greedy or otherwise is purely and yugely coincidental. By Suzanne Kelly.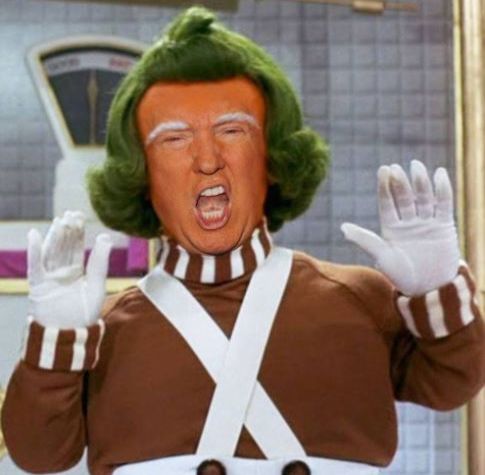 It was a cold November rain that fell on the glistening, gleaming, sparkly, shiny granite stone of the Granite City.
The rain even dared to fall on the city council's Town House and Marischal College.
Inside said Town House, a vulnerable Willie Wonky was clearing out his desk. It was late at night and unusually he felt tired and emotional.
And indeed angry – too angry even to throw out a few enlightening tweets to his many admirers – though being agitated had never stopped him before.
"It was only a fence, a wall, pathways…" Willie thought to himself; he was feeling rather hard done by.
"What about everything Dean for instance got away with?"
He had been forced from his office and his post on the City Council unceremoniously.
He felt that the science-based evidence against him was insignificant – after all, there was Pete Leonard, the man responsible for the crematorium scandal, and on a lesser note, he had formally reported that the Tullos Hill deer should be wiped out to create a forest – cost neutral no less – when he already had a letter telling him it wasn't possible to have a forest on the hill, a former rubbish-tip.
The man was soundly hated by 99.9% of his staff – yet got months of gardening leave with full pay and a golden parachute.
"If only the public knew how much we gave Leonard." Wonky muttered to himself.
He opened his desk and began taking out the files, deciding which to keep and which to leave behind – or destroy.
'City Garden Project' was by far the largest folder in his desk.
"Humpf" Wonky thought
"What a load of old cobblers. F me that was a stupid idea – ramps going up to a steep height only to descend to the other side. So much for the excuse of 'accessibility' being the reason to turn the gardens into a parking lot with astroturf. You'd have to be a mountain goat to get up or down those f-ing arches. So much for anyone in a wheelchair.
"Anne Begg easily accessed the gardens as they are . The idea of spending £180 million on this drivel and expecting people to fly in from all over the world to walk up and down a ramp or sit in an outdoor theatre – an outdoor theatre no less – to shop at Next and Boots; old Ian Wood must have thought we were out of our minds."
Willie pulled this thick file out of the drawer and unceremoniously heaved it on his desk.
Rifling through the file drawer was considerably easier with the bulk of the Union Terrace Gardens out of the way.
"Oh look, the Stewart Milne Stadium plan." Willie snorted derisively.
This huge white elephant was going to be great for everyone, especially one Stewart Milne.
File after file Wonky pulled out of his desk, from cabinets; dust was flying. Outside the rain intensified and the wind howled.
With each passing file he found – 'Tree for Every Citizen feasibility study' (by the man who gained £100k if it went ahead), 'Art Gallery renovation costings' (a work of sheer fantasy Wonky thought to himself with a sneer), 'Donald Trump impact study – benefits for Aberdeen City, by VisitScotland', 'Invitation to Trump's doctorate celebration'; 'Benefits for Torry of having a breaking yard and incinerator' – dozens of reports, papers, invitations and so on were piling high on Wonky's desk now.
The wind moaned louder and the windows rattled, but Willie ploughed on.
'Gerry Brough – curriculum vitae and list of academic credentials'; Wonky laughed aloud as he found this file; Brough was the bully who shouted down all opposition to the Garden project and stopped the public having a vote on just fixing the gardens up.
"F this wind and rain." Willie thought as he turned on his computer – well, it was still his for a day or maybe two, as he decided to have some Netflix and chill.
The computer warmed up, and the next thing Willie heard was an old familiar voice
"Ahn tae all me friends – comrades – I should say – This is Alex Salmond, welcoming you to another instalment of McRussian TV. Have I ever told ye about the time I was doon te Balmoral and was singing with Prince –"
"F that!" shouted Wonky at his computer and closed the tab for the Alex Salmond show,
"how the f did that get on my computer?"
He opened an new tab and waited for Amazon videos to load up; he swiped haphazardly at the screen and hit the Christmas movies button.
Willie unlatched the window; as rainy and windy as it was, he had unaccountably become clammy, hot and excitable.
When he crossed the room to return to his desk, he could see there was a big box still on top of the cabinet, a yuge box.
"F that, I'd better see what the F's in that F-ing thing." Willie said, his anger growing.
A random Christmas movie whirred into life on his laptop; 'Charlie and the Chocolate Factory' had started. He could hear it play in the background.
Pushing his swivel chair close to the cabinet, Willie stepped onto its seat, reached for the huge cardboard box high on the shelf and started to pull it towards him. At that moment several things happened all at once.
The wind suddenly gusted, blowing the windows wide opened. This caused the papers in the room and on his desk to spring to sudden life and swirl through the air.
"Waa F!" Willie thought as this sudden commotion caused him to lose his footing and the chair started to wheel away. Alas, he had not lost his grip on the giant box.
The box Willie had grabbed slid off the shelf, knocking him straight between the eyes, causing him to wince and howl in pain as he fell backwards. Then to cap things off, a long-forgotten trophy 'Aberdeen – best employer in Scotland' made of faux granite and cheap metal clonked Wonky straight on the head. Down and out he went.
#          #          #
A voice in Wonky's head was saying: "Congratulations! You're the final winner of the Aberdeen Art Gallery renovation lottery Golden Ticket contest!"
"What the F?" Willie thought, then he opened his eyes. He was in a vast crowd in front of the Aberdeen Art Gallery.
Crowds cheered. There was a podium on which were about 8 of the most ridiculous-looking people Willy had ever seen. The man who congratulated him was a tall, thin man of about 70.
The man, dressed in a top hat, tails and with a big bow tie kept speaking.
"I better cut down on my order" thought Wonky as he was helped to his feet.
The oddly dressed man was addressing the crowd:
"Friends, thank you for buying the 7 million Aberdeen Art Gallery refurbishment tickets in a single afternoon! We will have the art gallery back opened in no time – say 3 to 5 years! Result!"
The frenzied crowd roared with its approval.
The man fixed his top hat, adjusted his satin waistcoat, and continued:
"The art gallery lottery promised there would be six winners whose golden tickets would get them an amazing prize! More about that in a moment. We've raised £7 million pounds! Hooray us!"
The crowd cheered some more.
"We're going to raise even more money through some – ah efficiencies! We're going to stop the Youth Festival – that'll save £100k! No more kids wandering around town in the summer! No need to thank me or your councillors!"
The crowd were delirious with joy.
"Back to the Art Gallery Golden ticket winners" said Ian Wood – for it was he,
"These lucky people are the winners who will get the once-in-a-lifetime chance to come inside Marischal College and see where all the great ideas you love are dreamed up!"
There was more cheering, as you'd expect.
"The final winner is Willie Wonky here, who won the final golden ticket when he bought his Art Gallery lottery ticket. He too has won this vibrant and dynamic look behind the scenes at Marischal."
"The other winners are Donnie Trump from America, who loves watching television and playing with guns; He is with his lovely assistant and spokesperson Sarah Malone Bates!"
Again with the crowds cheering.
"We also have Professor Bill Ritchie, former Head of Housing Peter Leonard, and… Stewart Milne!"
The crowd was delirious by now with joy.
"And friends" continued Sir Ian, bowing and tipping his top hat,
"Before I take the lucky winners on the tour of the dream factory that is Marischal College, I just want you to know it is pure coincidence that most of the people who have won are friends of mine – but then again – who isn't?"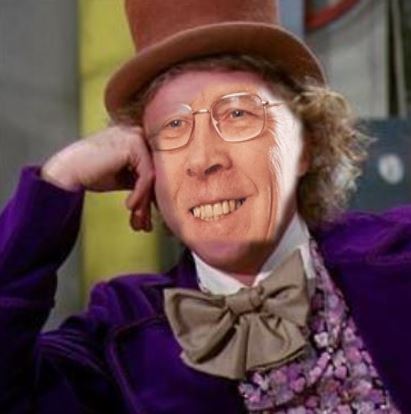 The crowds cheered more furiously than ever, as the lucky winners – Donald Trump, Sarah Malone, Willie Wonky (who was still feeling groggy and confused), Professor Bill Ritchie, Peter Leonard and Stewart Milne all stepped away from the crowds and past the statue of Sir Robert The Bruce towards a revolving door which would lead into the magical Marischal College building, where the magic happens.
Willie looked at the statue. For an instant he thought the horse snorted and Sir Robert bowed his head to expose a tear, but the fancy lasted only a moment.
Here we are! All pack in now! And Sir Ian stepped into the revolving door.
The other guests did their best to cosy up to him.
"Easy Stewart, if you get any closer you'll be behind me." chuckled Sir Ian.
Willie didn't see why they all had to crowd into the same section of the revolving door, but no one else complained; they just looked adoringly at Sir Ian.
"ARGH!" shouted Willie – "What the F-'"
"-No need to worry my boy, it's just one of the Troompa Loompas who run Marischal College." Smiled Sir Ian Wood.
"But it's hideous! Why is its hair that colour and doesn't it own a comb or a mirror! Why is its skin bright orange? Is it human?" said Willie, pointing
"That's my reflection you're pointing at pal." Said Donnie Trump angrily
"I'll be tweeting about this, mark my words!"
"No, that other hideous thing!" said Wonky, pointing to another orange skinned creature that looked only half human.
"Ah, that's Valerie Watts, the old Chief Executive. She's been stuck in this revolving door for years now, one executive appointment after another, going around in circles." Said Sir Ian.
"Stick with me everyone, you're on the ride of your lives!" Ian said, as the real Troompa Loompas, orange skinned minions with frizzy white hair started to make the revolving door spin faster and faster.
The revolving door was jam packed, the Troompa Loompa s made it go faster and faster.
Willie Wonky could see shapes as the revolving door spun round – there were flowers, birds, meadows of grass, gorse and birds. The elevator slowed, and out the occupants all spilled onto Tullos Hill.
A deer ambled past. A quick gunshot rang out, and the deer fell dead.
"Isn't it beautiful?!" asked Sir Ian. Wonky looked at the dead deer, but noticed Ian was pointing at a parking lot by a new building.
"Wood House and its new parking lot!" Sir Ian sighed.
"I'd like to thank you Pete Leonard for helping me. Aside from the unfortunate crematorium debacle – which we won't talk of ." Wonky said, noticing the obsequious yet bullying Leonard had coughed,
"if not for how you handled the Tullos situation, I might not have got that parking lot made."
"I have to hand it to you Pete. You knew there was no chance of growing a 'Tree for every Citizen' forest on this hill – it's a rubbish heap, and you were sent a letter proving it. But, on you went – and here's the genius thing – you told everyone in a report it was – cost neutral! Brilliant!"
Everyone laughed and clapped. The deer made a further spasm. Gunshots echoed all around.
"Pete, I like your spirit. You not only got rid of these deer, the migration of which was also a stumbling block for other projects – more of that soon – but you let the land donated to the city fall into such disrepair that the private owners took it back. If there's now coincidentally a parking lot I need for my beautiful new building, then I thank you.
"And all that money paid to the consultants – what was that guy's name – Chris Piper? Then well done you" Sir Ian said pinching and shaking Peter's cheek.
"I hope if any crumbs fell off that table, you swept them up Pete."
As the group surveyed the parking lot, the now barren hill save for a few dying saplings in tiny tree guards, a group of the Troompa Loompas marched into the scene.
As the Troompa Loompas gathered the group together to go to the next destination, they broke into song.
Troompa Loompa doopity dee
If you are wise you'll listen to me
If Ian Wood wants a new parking lot
Wildlife and habitat don't matter a jot
Let the land he needs fall into disuse
So he can get it – use any excuse
Kill a few deer and ignore the public outcry
Peter Leonard, you're our kind of guy
You lied to the public
You lied to the public
You can live in luxury too
Like Sir Ian and Helen doopity do.
As they were getting ready to leave the hill, Willie was sure he saw Sir Ian give Pete a bag marked 'swag'. The deer's tiny back leg gave its final twitch.
"And now if you'll all pile onto this magic bus" said Sir Ian as the Troompa Loompas helped the guests get on a Number 3 Stagecoach.
All the while Willy Wonky felt something was wonky.
The next stop is Loirston Loch! Where I've got a surprise for my friend Stewart!
"Sir Ian," asked Sarah Malone-Bates.
"That's like great an' all, like, but it will take ages in this traffic?"
She pointed to the gridlocked cars on Wellington Road.
"I have a nail appointment at 5, Botox at 8, then my colonic at…." She droned on
Willie started to ask whether the new Wood building with its full parking lot was a good idea for this already congested road (which was and still is one of Scotland's most over-polluted Roads) but a Troompa Loompa shot him a dirty look.
"It will take us no time to get to Loirston, isn't that right Stewart?" said Sir Ian with a wink.
The doughy, sweaty kitchen fitter Stewart Milne nodded emphatically:
"Yes, anything you say Sir Ian, you look wonderful today. Yes, that's right. In my plan to build a new stadium on top of Loirston Loch, we told the public and the planners that you could get to Loirston Loch by bus from the centre of town when a football match was on in 15 minutes."
"Fifteen minutes? It takes that longer than that to get to Torry as it is." Willie thought as the last of the entourage climbed on the magic No. 3 bus which sped off and to Willie's amazement flew through the air over the gridlocked cars.
Before the group knew it, the Troompa Loompas were helping them off the bus and out onto a construction site near a lake. Not a bird could be seen or heard amid the rising girders and hum of machinery.
"Well Stewart my dear friend" started Sir Ian
"We might not have got you that football stadium at Loirston you wanted – yet – but look at all these houses and businesses going up! More office space! Just what we need!"
Willie looked around, and noticed he was standing on a faded, splintered wooden sign that said: 'The City of Aberdeen recognises the importance of Loirston Lake both to wildlife…. A first view of our city… agree it should never be built on…'
"But Sir Ian, er, don't we already have a glut of office space? asked Willie Wonky, whose head was hurting and spinning now.
We can't even fill the new Marischal Square, even though it does have a giant leopard statue in it?"
The looks of the rest of the assembly were of scorn and derision, but Sir Ian said:
"My boy, Willie – when I say 'we' need office space – I mean WE. The construction industry, Scottish Enterprise – we have to keep building stuff so we have work to do and can brag about new buildings.
"Then there's all the – ah – associated benefits – consulting work, subcontracting… We definitely need this building. Who's going to let a few threatened species of birds stand in our way?"
Everyone laughed and Willie smiled weakly.
Stewart Milne toddled forward, and hugged Sir Ian – although this amounted to hugging him by the waist given the height differential.
"I've got a wee something for you in your Swiss account Stewart, see you at the next ACSEF meeting after this tour's over." Said Sir Ian winking again
"You mean the next First meeting don't you, Sir Ian; we changed the name and the logo – remember?" asked Stewart Milne?
"Whatever." Said Sir Ian.
And the Troompa Loompas again broke out into song, which was beginning to wear thin thought Willie.
Troompa Loompa doopity doo
I have another conundrum for you
What good's a loch and a birdie or two
When there's money to be made for you-know-who?
If a bird can't earn enough to feather its nest
Making it clear off is definitely best
More office space is what we all really need
A 'Smart successful Scotland' well, and maybe some greed
You can live in luxury too
Like Sir Ian and Helen doopity do.
The group were ushered awa from the lock, and Sarah humpfed as her 6" Jimmy Blahnik dolphin-hide heels sank into the grass.
A helicopter was waiting for them marked Scottish Enterprise
"All aboard, and I'll show you places where Aberdeen city and Shire have made several dreams come true!" said a jubilant Sir Ian Wood
"Who's the pilot?" asked Sarah, who looked a little green with envy at the tall blond woman.
"Everyone, this is Jennifer Claw." Said Sir Ian with a wink to the pilot.
"She's got a degree in nutrition and the cutest little dimples when she – ah – smiles. So, as she had a degree in nutrition or something, so I made her the head of Scottish Enterprise Grampian and put her on the board of my Wood Family Trust – is it holding £25 million now? I forget."
"Jennifer's also on the Robert Gordon University board – no need to thank me just now Jennie darling – and– look you can see it down there as we fly over!" said Sir Ian, distracting everyone away from Jennifer who had blown him a kiss by pointing out the sprawling campus
"And that's the Sir Ian Wood building" he said as all the assembled marvelled and clapped.
Except for Willie. Willie was beginning to sense a link to all these Aberdeen City Council projects, and he wasn't sure he liked it.
"So, where's Lady Helen today Sir Ian?" Willie asked. You could have heard a pin drop.
"Ah, she's off playing tennis; her ball control's improved, and her strokes are decidedly better." Sir Ian said as he mopped his brow with a hugely oversized hanky.
"We're not going to stop in, but look over to your right as we fly up the Aberdeen Coast – that's Torry and Nigg, near where we were at Tullos – isn't it beautiful?"
Sir Ian gesticulated towards the coast south of the city centre which the copter was now flying over.
All Willy saw was a plume of smoke, lots of lorries, barbed wire and a huge construction project on the bay of Nigg.
"The people there are so lucky Aberdeen City and its Harbour Board helped come up with these huge improvements" said Sir Ian – "well, with a little help from Scottish Enterprise and ACSEF."
Again all those aboard laughed and clapped.
"Hey, isn't this the same helicopter youse guys paid me to fly in to the Menie Estate in when I came over looking for a place for a golf course?" asked Donnie Trump.
"The very same." Sir Ian replied.
"The wonderful, important golf course at Menie, the wonderful, important cruise line for Torry – does everyone know who we have to thank for these developments?"
Professor Bill Ritchie gave his head a jaunty tilt and a little shake of false modesty.
"Oh, I'm just happy to help my friends Donnie and of course you Sir Ian." The professor started,
"I was once on the board of the East Grampian Coastal partnership. I used to think we needed a public marina, wildlife habitat, and a place to educate young people for maritime careers. But (he said looking at Sir Ian) I changed my way of thinking.
"I was proud to be helpful to you too Donnie when you wanted your golf course. I said it was easy to build 900 homes, a hotel, 2 golf courses and a country club – as well as living quarters for the lackeys – without harming the environment or the protected sites. I'm so happy to have been proven right."
Professor Ritchie's chest puffed out, he was filled with self-satisfied pride and almost everyone on the chopper applauded him.
"F me not another F-ing song" thought Willie as those Troompy looking hobbits geared up for another verse.
Troompa Loompa doopity da
If you've no scruples you're sure to go fa
What does an expert get whose opinions for hire?
Consultancy cash from SE, ACSEF and Aspire
Using his titles to feather his nest
Swearing to everyone that he knows best
Just don't talk to reporters
Don't talk to reporters
You can live in luxury too
Like Sir Ian and Helen doopity do.
Willie Wonky was starting to get fed up with his golden ticket tour of all the magical things Aberdeen City was making happen. And that bloody singing.
Willie asked:
"Professor, weren't you supposed to lead an environmental monitoring group with Sarah to protect wildlife, and isn't it true that since the monitoring fell apart you won't answer any questions from the press about your role?"
He immediately sensed he had overstepped the mark with this question; for a moment a shadow passed Sir Ian's face and Sarah wrinkled her expensive nose. The professor scurried away and didn't say a word for the rest of the trip. Donnie was turning blue in the face.
Sarah spoke.
"Oh, we did that, but it was too cold for me to go outside in my Prada, and besides, it's the world's greatest golf course on the world's largest sand dunes."
At her words Donnie Trump calmed down a bit, his face returning to its orange hue.
"Sarah's right" started Sir Ian;
"She's smart as a whip. Why everything's fine and just how we want it. Sarah's so smart I had one of my little groups invite her to give a talk, isn't that right honey?" he asked her.
"Sure, it was fun too," Sarah Malone-Bates said, "I got to give a talk called "'The Bigger the Vision, the Bigger the Opposition," and the event – held at the Sir Ian Wood building of course at RGU where Woody – I mean Sir Ian – runs things. I must thank whoever wrote that speech for me sometime."
Sarah continued to list her accomplishments, how she was whisked out of the Gordon Highlanders Museum to be Trump's first ever Scottish Executive Vice President, how good she was at moisturising and accessorising, and how much her husband, coincidentally who used to edit the local newspaper, loved her [surely some mistake? – editor].
Willie audibly groaned as the Troompa Loompas circled Sarah Malone, whose shoulder pads were a marvel to behold, as he knew another song was coming; he felt he was going to be sick.
Troompa Loompa doopity de
I have another puzzle for ye
What's more important than designer clothes,
Having the right hair and a beautiful nose?
Attracting the right man, obviously
Especially if that man has lots of money
She's the Face of Aberdeen
She's the Face of Aberdeen
What do you get when you tell lots of lies
If you are Sarah then you get a pay rise
Trading your looks in for cash is her solution
So what if other people think it's prostitution?
(Sarah's a Vice President)
You can live in luxury too
Like Sir Ian and Helen doopity do.
Willie Wonky's brain was putting together all the puzzle pieces from the day, and was starting not to like the picture they were forming.
But on the copter flew, and just before they started to land on a helipad with a giant letter T, Donnie Trump exclaimed:
"There they are, the world's largest sand dunes! I even made a plaque, didn't we Sarah Malone honey, to say so! Biggest! Bestest! Yugest!"
A tumbleweed blew past as the rotor blades slowed, and out the lucky Aberdeen Art Gallery golden ticket winners scrambled into the freezing air.
"Anyone for 18 holes?" bellowed Donnie in the freezing winds as the rest of the group ran for the shelter of the clubhouse.
Once inside this building on an empty parking lot, Sarah snapped her fingers, and waiters and waitresses appeared with bottles of whisky and glasses.
"Trump whisky – £50 a glass or £500 for a bottle. £250 a bottle if signed by Donnie." She hawked.
"Later Sarah Dear" said Sir Ian, adjusting his top hat and billowy bow tie.
"No one's here, aren't there supposed to be golfers – what's going on?" asked Willie; everyone smiled at him.
The room started to spin as he sipped one of those whiskies.
"We don't want anyone here." said Sir Ian quietly, the others faces started to look mean and contorted.
Willie Wonky stumbled and fell into a chair – a chair with a big Donald Trump crest on it. The other winners, the Troompa Loompas leaned in closer.
Willie felt quite ill now, as these ghastly, grotesque faces sneered at him and laughed. Sir Ian spoke.
"We don't want anyone here; never did. Another few years of tax write offs in the USA for Trump – if he doesn't get impeached or jailed yet – no offence Donnie, but you're not quite as subtle as you should be sometimes – and then it'll be sold off. Donnie – we'll talk about that international charity US tax break later.
"It will go to housing – we'll all see to that. And what housing developer is favoured in this neck of the woods? That would be my good friend Stewart Milne.
"And what organisation would get involved with such a huge or if you will 'yuge' undertaking? Why Scottish Enterprise of course. I may have retired, but after decades as head of the thing, don't you think I still have my claws still in it one way or the other?
"Think of the construction jobs, the consultancies, the money to be made. And Willie, the granite web is making a comeback; do you think I give up that easily? And when the idea was being promoted so hard, ask yourself two questions – who stood to benefit is one.
"Stewart owned the adjacent Triple Kirks, and he needed parking; we could have got that for him, but it's not all over yet. The other thing to ask yourself – what did the public miss while we were distracting them with a design consultation vote when we already knew what design we wanted – the ludicrous web design.  And they fell for it.
"We have Donald Trump in charge of the USA; over here he will be allowed to do as he pleases.
And while tens – hundreds of millions are moving through Scottish Enterprise, land deals – like when the city sold that land to you Stewart for a peppercorn, and while public land is snapped up – we'll get people to focus on other things.
"Either we'll threaten to take away what little arts provision they and their children get, or the more mean-spirited ones will be convinced that people from abroad are taking their land, money and jobs – not you Donnie though" Ian winked, any previous trace of gentility gone from his features.
"While we're at it, there's one more item on the agenda for your tour Willie Wonky – we're going to look at the City of Culture Bid.
"All aboard the helicopter for gigs on oil rigs! How much public money and time did that nonsense soak up? Well, here's Rita Stephen to tell you all about it!
"Remember Willie – whether it's a football stadium, a parking lot, a breaking yard, Trump's golf course – and his honorary degree from the University I own that has a building with my name on it – you now know who's behind everything in this town. Nothing, I mean nothing goes on in this town without my say so.
"I said as much to people before, and I'm telling you now."
Oor Willie whined as, while his eyes fluttered open and closed, the Troompa Loompas broke into one last verse of their song:
Troompa Loompa doopity do
I have final question for you
Who in Aberdeen is behind everything
That is environmentally damaging?
ACSEF, First, RGU and SE.
As the saying goes, 'follow the money'
Sir Ian is behind it
Sir Ian is behind it
You can live in luxury to
Just do what Sir Ian Wood –
tells
you
to!
#          #          #
Willie's eyes had glazed over; the other golden ticket winners' laughs had turned to a huge roar of noise, and he fluttered his eyes.
As if he hadn't been through enough, standing over him was… Rita Stephen
"NOOO!" shouted Willie,
"Anything but the City of Culture bid! – Anything!"
"Willie, are ye alright mon?" She said.
"I was just going to re-write the symphony for orchestra, ship's horns and horses that was part of me great City of Culture bid tonight, when I saw yer door open.
"I'd seen you passed oot and thought it was the usual, but I noted the gash on yer heid."
His eyes focused and leaning over him was Rita Stephen, the woman behind among other things the City of Culture bid that made Aberdeen the laughing stock of the western hemisphere – again.
"AIEEEEE" Willie screamed, and sprinted out of the office, leaving all of his paperwork behind.
He didn't stop running until he was safely locked in his house and under his covers.
The sun was shining. Willie woke up as the phone rang.
He remembered with a sudden start his horrible nightmare. He shook his head violently from side to side and answered the phone.
"Hi Willie, well, you've been gone long enough; what's it been, a few days now? Fancy being deputy Lord Provost?"
Willie thought of all the corruption he knew about; he thought of all the pieces that had fallen so neatly into place in his fevered dream. He took a deep breath.
"Sounds great Barney; I'll be over in a few hours. I'll want a bigger office with a view mind."
Comments enabled – see comments box below. Note, all comments will be moderated.