Aberdeen Voice's Dave Guthrie reports on an afternoon when Union Terrace Gardens provided the backdrop for a tri-partite cultural gathering and a small community festival brought together Gallowgate residents and group.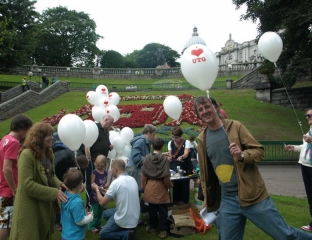 It was a busy day in Aberdeen last Saturday.
First of all, there was the modest and little-publicised Gallowgate Festival centred around St Margaret's Church, you know the one with the big golden Christ on the cross opposite the Blue Lampie.
This was a low-key affair with a few stalls, tea and cakes and tango dancing lessons.
A well-kept secret is that the views from the small gardens clinging to the north and east sides of the church are among the finest in Aberdeen.
Meanwhile, in the city centre, three different events were taking place – Tartan Day, William Wallace Day and an International Youth Festival showcase and following a fine parade along Union Street all three celebrations came together on Schoolhill and in Union Terrace Gardens.
There was an alarming number of men in tartan trews and waskits.
In the shadow of Wallace's statue, a short history of Scotland's fight for nationhood was enacted although there was no mention of which of his body parts were displayed in Aberdeen after he'd been hung, drawn and quartered. There followed a reading of the Declaration of Arbroath and Hamish Henderson's stirring Freedom Come All Ye was sung. To conclude, there was offered a fervent prayer which contained a plea to a higher power to grant our civic leaders wisdom, selflessness and intelligence.
Down in the irreplaceable and threatened Gardens meanwhile, the council had provided extra portaloos – although the fine, original Victorian restrooms await refurbishment, of course – an open air stage with seating and a hot food and drinks concession. A couple of tents manned by costumed actors displayed medieval armour and weaponry and the Friends of UTG were doing a roaring trade selling helium-filled balloons. Few people, even the very elderly, were allowed to leave the Gardens without a balloon tied around their wrists. There was an alarming number of men in tartan trews and waskits.
The music kicked off with a lively set from an energetic French ska band followed by other IYF groups offering Strathspeys and reels, fiddle and accordion frenzies and some cool jazz.
Extra seating was provided on request as the audience grew throughout the afternoon. Feet tapped, children played and folk had their photos taken with broadswords, claymores, dirks and kilted warriors.
The last shower passed; the sun came out and up above us, Wallace, larger-than-life, arm outstretched, may have been saying, "Look at Aiberdeen! She sparkles and she shines!"