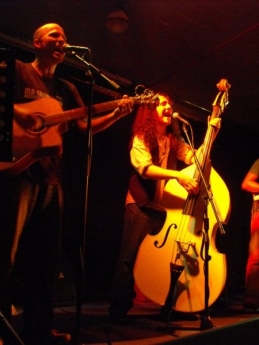 With thanks to
Pete Coutts.
If the world doesn't end on 21st December, then Christmas and New Year are right around the corner.
Why not spend your Hogmanay at the Hogmanay Hootenanny?
The Hogmanay Hootenanny stars Smokin' Catfish, Catford, The Jellyman's Daughter, and is Monday 31st December 8.30pm till late at The Blue Lamp, Gallowgate .
The entry fee is £15.
Smokin' Catfish – local 5-piece bluegrass outlaws Smokin' Catfish have been surprising audiences in Aberdeen since summer 2008 with their stunning harmonies and foot-stomping live performances.
This traditional bluegrass line up with its inbuilt rock 'n' roll attitude will wear out your dancing shoes in an explosion of high-octane, string-pickin' fun.
Catford play songs with an emphasis on creamy vocal harmonies, textured rhythms, vivid melodies, and all underpinned by great musicianship and packed with soul.
This recently-formed band of four diverse multi-instrumentalists – hailing from the North-East of Scotland – blend American and Scottish folk influences with rhythms borrowed from across the globe to create a potent mix that sets them apart. Featuring local singer/songwriters Steve Crawford and Davy Cattanach, augmented by the amazing Jonny Hardie (Old Blind Dogs) and local multi-instrumentalist Pete Coutts
The Jellyman's Daughter are a unique new duo from Edinburgh. Their interweaving vocal harmonies are complimented by an interesting mix of cello and acoustic guitar. One of the distinguishing features of The Jellyman's Daughter is the innovative rhythmic style of cello playing providing a catchy percussive backbeat to some of their songs, contrasted by the intimacy of others.