By Peter Coutts.
It's that time of year when everyone is frantically trying to pin down exactly which social gathering they will attend this Hogmanay. Well, the answer to your New Year party prayers is here….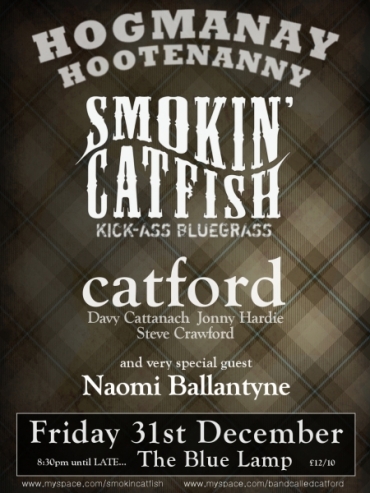 The Blue Lamp will be hosting its second
Hogmanay Hootenanny,
on December 31, funnily enough.
Following the success of last year's festivities, the Lampie is once again home to this tasty event, featuring the cream of local talent firing at you traditional and not-so-traditional music from both sides of the Atlantic.
Local 6-piece bluegrassers Smokin' Catfish have been surprising audiences in Aberdeen for over two years with their stunning harmonies and foot-stomping live performances. This traditional bluegrass line up with its inbuilt rock 'n' roll attitude will wear out your dancing shoes in an explosion of high-octane, string-pickin' fun.
Catford, new to the Aberdeen scene, feature local multi-instrumentalists and singer/songwriters Steve Crawford and Davy Cattanach, augmented by the amazing Jonny Hardie, Davy's former Old Blind Dogs bandmate. The boys have just released a new album, Chronicles, which should be on your January sales shopping list. Driven by Steve and Davy's percussion and guitar and underpinned by Jonny's luxuriant strings, Catford's blend of exquisite songs, jaw-dropping harmonies and virtuoso musicianship will leave you mesmerised.
Also joining in will be local firecracker and host of SHMU FM's Monday Session, Naomi Ballantyne, an exciting local fiddler who will bring a smile to your face, a twitch to your toes and a song to your heart. Naomi will be joined by members of Catford and Smokin' Catfish for a rip-roaring transatlantic session.
So, this Hogmanay, give yourself a last-gasp 2010 gift and get down to the best venue in Aberdeen and hae a rare auld time in the friendly atmosphere. Slainte mhath.
HOGMANAY HOOTENANNY, The Blue Lamp 31 December 2010, featuring
Smokin' Catfish (kickass bluegrass)
Catford (Davy Cattanach, Steve Crawford, Jonny Hardie)
with special guest Naomi Ballantyne
8.30pm (onstage 9.30) till LATE