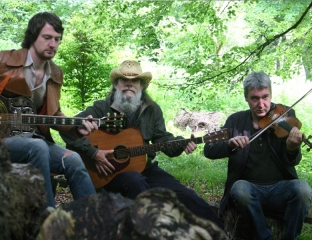 With thanks to

Anne Campbell.
Catford,  a new band on the Aberdeen scene, are about to release a superb new album called "Chronicles". The Album will be launched at The Blue Lamp on Monday 8th November, offering the first chance check out this exciting new act.
Multi-instrumentalists and singer/songwriters Steve Crawford and Davy Cattanach are joined by Jonny Hardie who is Davy's former band mate in the popular traditional outfit – "The Old Blind Dogs".
Steve and Davy have been writing and playing together for several years, originally with the Pictones, but laterally as an acoustic duo. Whilst working with Jonny on a recording project, Jonny asked if they would like to record some tracks at his studio. Naturally they jumped at the chance and with Jonny on board a few tracks quickly turned into an album with some fabulous string arrangements and accompaniment by Hardie.
Also performing on the album are well known local musicians Mhairi Sinclair and Nicky Cairney, and the legendary saxophonist Nigel Hitchcock. Nigel's contribution to the track "Pressure" is one of the albums many highlights.
The result is an acoustic album with an emphasis on vocal harmonies, driven by Steve and Davy's percussion and guitar along with Jonny's luxuriant strings. Those of us who have been hearing these songs developed and played at various gigs and sessions can now hear them arranged and performed exquisitely and will finally be able to take them home.
"Chronicles" is released on the 8th of November at the Blue Lamp and will be available from local outlets. The band will be joined on stage by local guitarist Pete Coutts in addition to all who appeared on the album. See Events. (link)