Experts don't know why, perhaps the Coen Brothers are responsible, but it seems to be a golden age for bluegrass fans right now.  Well-regarded among the singers, pickers, strummers, bowers and songsmiths jostling for attention, and road and studio action, are the duo from Seattle, Washington, Cahalen Morrison and Eli West. Bob Harris likes them – and that's usually recommendation enough for Voice's David Innes, who witnessed Sunday night delight at The Blue Lamp.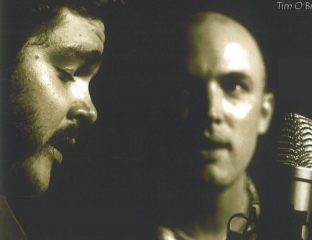 The Lampie stage was sparsely furnished with only four microphones and the same number of instrument cases. No percussion, not a wood bass in sight, the Jazz Club's house grand piano rolled into the corner and kept under wraps. Minor alarm bells rang. Could a bluegrass duo brass this out without as much as a cursory nod to a rhythm section of even the most rudimentary kind?
On they came, Cahalen Morrison resembling Fleetwood Mac-era Jeremy Spencer, whilst Eli West could pass for Grave New World-period Strawb Richard Hudson in dim light.
With a guitar, banjo, mandolin and an octave mandolin – "it has thyroid issues", according to West – swapped between the duo, there was beautiful balance between sympathetic accompaniment and studied expert soloing.
Where Morrison and West really excelled though, was when they combined in finely-tuned almost celestial harmony, as if Charlie and Ira Louvin had drifted in to shelter from the Gallowgate's mild November breeze. Cahalen's more bluesy edge was perfectly counter-pointed by Eli's gentler, but no less powerful country gospel larynx.
On occasions where Cahalen sang, his phrasing and way with melody was reminiscent of Paul Simon. It was hardly surprising then, when Eli tongue-in-cheekedly name-checked old Rhymin' himself as "a great father of Bluegrass" before delighting the Lamp's clientele with 'Hearts and Bones' as his featured solo spot, following Cahalen's sweet solo 'Ode To Autumn'.
The Cox Family's 'I Am Weary' was my highlight of the evening though. All that is grand in Morrison and West's abilities came together in a glorious and spirit-enhancing instrumental, vocal and soulful crescendo; almost a template in illustrating the irresistible heart-tugging power of gospel, even to we secularists – when simply but expertly executed by supremely-gifted musicians like these.
They can bluegrass over Gallowgate any time they like.