With thanks to Interesting Music.
Interesting Music presents an interesting combination of musicians, each highly respected for their individual talent, at the Blue Lamp, Sunday, Nov 21st. ( see events calendar – click here )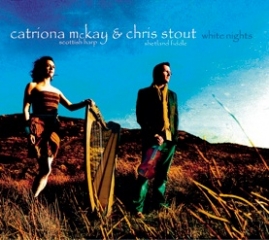 Catriona McKay (Scottish harp) and Chris Stout (Shetland fiddle) play a dynamic and adventurous exploration of traditional Scottish music. Performing together for 15 years, they are connected to the traditions of their instruments while being highly aware of and enthralled by the possibilities they hold. They pursue a path to explore sounds that connect and challenge.
Their self-penned 2010 album White Nights is a modulation between past and present, between summer and winter, between reliability and risk. Music inspired by the heightened senses during the long light nights of summer in the north, and in contrast, music which celebrates reflections of winter landscapes and sounds.
Through colour and depth of tone, they abandon themselves on a journey to create one sound, yet they carve out space for one another to allow a musical dialogue. It is this unity along with communication that makes their music so compelling.
Catriona has just been short-listed for a Glenfiddich Award up against Biffy Clyro, Paulo Nutini and Isobel Campbell – an interesting line up to say the least!
http://www.mckaystoutmusic.co.uk
CATRIONA MCKAY AND CHRIS STOUT + SUPPORT
Sunday, 21 November 2010
The Blue Lamp, 121 Gallowgate, Aberdeen, AB25 1BU. Phone (01224) 647472
Doors 8pm
Tickets £10+bf in adv / £12 on door
Available from One-Up Records, Belmont Street, Aberdeen. Phone (01224) 642662 or http://www.ticketweb.co.uk