Jeff Brodie has been volunteered to keep readers of Aberdeen Voice updated on Menie Dunes, renamed The Great Dunes of Scotland by Donald Trump, and on the antics of Trump and his cohorts of Trump International Golf Club Scotland (TIGCS).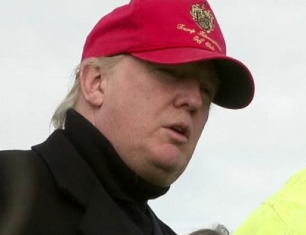 Donald Trump approached the business of a building a golf course in NE Scotland very much as he approached his business dealings elsewhere, with a sense of showmanship, bluster, rudeness and outrageous claims. He boasted of creating
"the greatest golf course in the world".

He promised thousands of jobs and over £1bn investment.
No-one has ever attempted to build a golf course in the middle of a mobile sand dune system and the Menie course has been constructed on a Site of Special Scientific Interest (SSSI).
Scottish Natural Heritage notes:
"Large scale movements and associated redistribution of bare sand within the SSSI have been dramatic. The sand edge has migrated 200m inland during a 27 year period. The position of the northern margin in 1949 barely overlapped the 2006 position of the southern margin."
Already there are signs that the sand is fighting back, inundating areas of newly-sown fairways and greens.
Europe's first £100m course has now cost a paltry £6.5m according to audited accounts. His plans for a huge hotel and a small village complex appear to have been abandoned. There is still a large hole in the ground in Dubai, where he also had a hotel planned. George Sorial, filmed in Trump Tower, overlooking Manhattan, ventured the claim,
"For this project to be really great, we need to have a hotel, and I would challenge anyone to find a developer that would put a hotel on that site with some of the properties that are currently there in the states they are."
So, to attract developers, he needs to clear all surrounding properties and intimidate the Scottish Parliament.
 Security guards continually patrol the ground, intimidating members of the public
His approach has been unorthodox, intimidating and, at times, bullying. TIGCS has taken unilateral action against neighbours, including threats of court action and alleged damage to private property. Behind the scenes, Trump Organisation staff have sneered and laughed at ordinary law-abiding residents who have never objected to the principle of a golf course development.
These residents only ever asked to be treated fairly and honestly, and to have their human rights to remain on their land respected. They want the right to live in their homes in peace and free from harassment and intimidation. Power and water supplies have been cut off without warning or explanation to intimidate residents. Trump even attempted to charge resident Molly Forbes legal expenses, until the Court of Session ruled that she was not liable.
Embankments have been bulldozed and trees have been planted on property boundaries to block out any view from both sides. The trees have often to be renewed, as, to no-one's surprise, trees won't take root in sand. Security guards continually patrol the ground, intimidating members of the public who use their right to roam on what was once publicly-accessible land. Work seems to progress on the site with permission being sought later.
Donald Trump is now playing with the First Minister, telling us he is a friend of the environment and that wind turbines would destroy the view from his golf course and the as yet-unbuilt hotel and houses. In a letter to the First Minister, he stated that: 
"wind turbines are not environmentally friendly and will destroy your country and its economy"
Members of the Scottish Parliament's Economy, Energy and Tourism Committee have invited Trump to appear before them on April 25, after he decided to bankroll an anti-wind farm campaign "to save Scotland".
Whether you are for or against wind turbines has no relevance here. Only the Scottish people, rather than an American businessman, can decide what is best for themselves. Do we need a billionaire to dictate our lives? I don't think so.
The course, according to the sycophantic warblings of The Press & Journal, opens on July 10. With weekday green fees at £150 and weekend fees at £200, this is just what we need, when, in the same Aberdeen Journals Extra, they have vouchers for fourteen other golf courses for £12.
The land is owned by Trump International Golf Club Scotland Ltd, (TIGCS) incorporated on 21 October 2005, registered in Scotland under Company Registration Number SC292100 and whose registered office is 20 Castle Terrace, Edinburgh.
Accounts for the company have been lodged up to 31 December 2010. Over the five reported years
TIGCS has made operating losses totalling £2,780,521.
TIGCS has fixed assets of £13,155,690
TIGCS has debts of £16,579,963.
The accounts are abbreviated accounts in accordance with Section 444 (30) of the Companies Act 2006.
According to the accounts prepared up to and including 2008, the debts were owed to Mr Donald J Trump. In 2009 and 2010, it is not stated whether or not any of the directors are creditors.
The published accounts confirm that
Menie Estate was acquired for around £6.7 million
investment in the golf course since then has been £6,455,690
This is around a quarter of the figure provided by Trump's spokeswoman Sarah Malone in November 2011.
Jeff acknowledges Andy Wightman and his blogsite as a source for much of this information
http://www.andywightman.com/trump/ and http://www.trippinguptrump.com/the-wightman-report-0