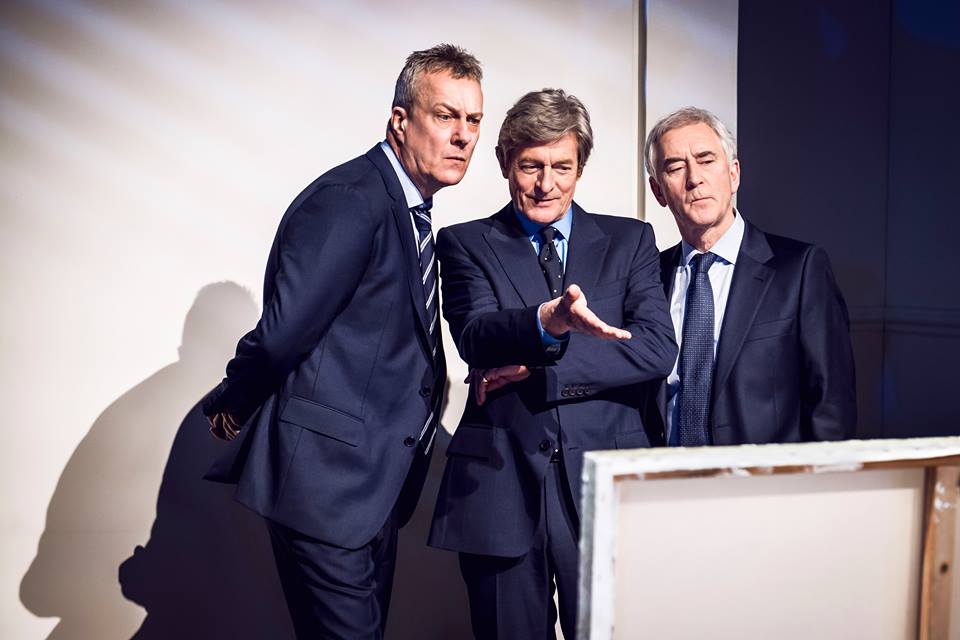 Duncan Harley reviews ART @ His Majesty's Theatre, Aberdeen.
Admirers of the work of Yasmina Reza will not be disappointed by this three-hander comedy.
Despite the unassuming title, ART is a masterful and at times powerful study of prejudice and tolerance among friends.
Using as a focus a completely blank canvas, purchased by Serge for a not insubstantial sum, the dialogue portrays the complex relationships between three friends as they attempt to maintain an equilibrium in the face of the imminent death of their 15-year association.
Battle lines are drawn and the dusty baggage of the past emerges to challenge each in turn to explore what binds us together.
Unequivocally proud of his purchase Serge demands approval of his expensive work of art. Feelings escalate when Marc describes the painting as 'a piece of white shit tarted-up with a couple of white stripes'. And, when drawn into the fire, the normally compliant Yvan must take a stance. A fist-fight ensues and blood is drawn before, in a splendid scene involving a conciliatory bowl of olives plus a measure of posturing, all becomes well.
This is a fast-paced piece of theatre performed in some twenty short sections over 90 minutes, mainly in dialogue form although at points the actors directly address an audience who very quickly realise that this is not a play about modern art.
Set and lighting are simple and effective. Delivery is crisp and flawless and who would expect anything less from Nigel Havers, Denis Lawson and Stephen Tompkinson.
Appropriately perhaps there is no interval, after all why would anyone wish to take a break from this unrelenting piece of thought-provoking comedy to partake of an ice-cream or even a glass of the red stuff.
Written by Yasmina Reza and Directed by Ellie Jones, ART plays at His Majesty's Aberdeen until Saturday 30th March.
Tickets from Aberdeen Performing Arts Tel: 01224- 641122
Star rating: 4.5 out of 5