With Remembrance Sunday approaching fast and the wearing of a poppy being de rigueur for every stuffed shirt and empty suit on TV, Voice's Dave Watt thinks about 11 November.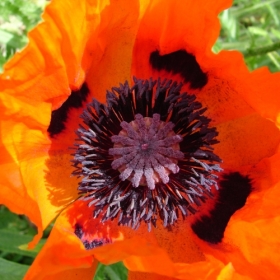 11 November falls on a Friday this year, so the dead will have to wait until Sunday to be remembered, as the powers that be don't seem to think that remembering them on the actual Armistice Day would be convenient.
I mean, businesses might lose a whole two minutes profit and think what a disaster that would be for our thriving economy. After all, big business interests shovel money into party funds and one and a quarter million dead servicemen and women don't. So, balls to them.
Armistice Day on 11 November was originally meant to signal the end of The War to End Wars, back in a time when that phrase wouldn't bring forth a cynical snigger.
In fact, on my grandfather's medals, hanging in a frame in my hallway, it refers to The Great War For Civilisation which shows that there were politicians in the 1920s capable of coming out with the same kind of drivel as George W Bush did with his ludicrous War on Terror ten years ago.
Presumably, at some time in the future there will be a War For Straight Bananas or a War For Fashionable Sandals or something equally weird.
Hopefully, this year will not feature such irretrievable tat as the Royal British Legion inviting The Saturdays to frolic half-naked in a sea of poppies or getting the judges on X Factor to wear grotesque poppy fashion items – two tasteless frolics which inspired ex-SAS soldier Ben Griffin to describe them as 'stunts to trivialise, normalise and satirise war'. Griffin, in fact, went on to state that remembrance has been turned into 'a month long drum roll of support for current wars', a point of view it is increasingly difficult to disagree with.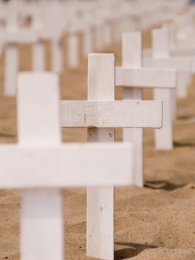 My grandfather joined up in 1914 in the surge of patriotism engendered by Germany illegally invading Belgium; my uncle joined up in 1939 when Hitler illegally subjugated Poland. Presumably, if Tony Blair had been Prime Minister in 1914, we'd have joined in the illegal invasion and attacked tiny Belgium as we did with impoverished third world Afghanistan, not one of whose citizens had previously done us the slightest harm.
Then again, if Tony had been in charge in 1939 he'd surely have produced some shoddy dossiers to our gullible Parliament showing how those dastardly Poles were all set to attack peace-loving Nazi Germany and that they had weapons of mass destruction concealed in Cracow and Gdansk which could be deployed within 45 minutes.
Yes, if good old Tony had been on the case then, we could nowadays watch Wellington bombers joining the Stukas strafing the women and kids in Warsaw on World at War on Yesterday – with a suitably solemn voice-over courtesy of Laurence Olivier. God, wouldn't that make us just so proud of ourselves?
No, the bottom line is that we're not the Good Guys helping the Underdog against the Bully any more. We're something quite different now.
If you were wondering what happened to my uncle and grandfather in their wars, my uncle died in Normandy in 1944 after fighting in North Africa, Italy and Sicily. My grandfather survived four years in the trenches but was wounded and mustard-gassed in 1918. The mustard gas steadily and horribly eroded his lungs over the years and he eventually died in 1955 aged 56, so the War for Civilisation got him in the end.
I also had a relative on board HMS Hood when the Bismarck sank her in the Denmark Straits in May 1941. He was not one of the three survivors.
It's interesting to think that if my three relations had survived wars and lived until now that their reward from a grateful country would be to have some pampered ex-public schoolboy Tories and Lib Dems cutting their fuel allowances by £100 this winter.
I'll have my own two minutes silence for my relations and all the rest – the ones who came back and the ones who didn't.
On Friday.
Photo Credits –
Row Of Crosses © Mediaonela | Dreamstime.com  
Poppy At Newe July 2011 © Elaine Andrews