By David Innes.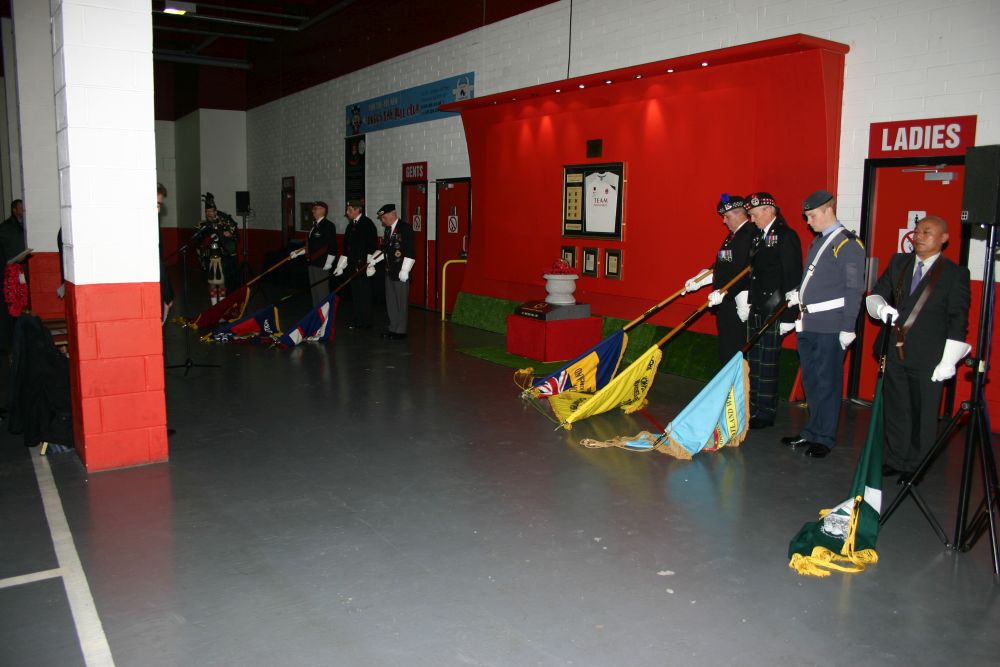 Whilst we stood in respectful silence at Pittodrie before Sunday's fixture against Celtic, Armistice Day itself was marked by AFC Heritage Trust's annual re-dedication of its memorial to the club's fallen.
This is a Trust annual staple, the sixth since the original dedication of the permanent memorial in 2008.
The Trust War Memorial itself, a permanent fixture in the Richard Donald Stand, has been considerably enhanced through the generous donation of a granite sculpture by Heritage Trust patron Graham Guyan, proprietor of the cleaning company which employs members of the NE Gurkha community on duty behind the scenes at Pittodrie. This addition was on display for the first time.
Two Trustees, Derek Gill and Andrew Duthie read the roll of honour, always a moving tribute. It is almost impossible to comprehend the ages of those who did not return.
'The Floo'ers O The Forest', piped by  Pipe Major Laing of the Universities OTC and The Last Post led to two impeccably-observed minutes of silence and reflection, before Reveille and 'Campbeltown Loch' signified reawakening and new hope. Laurence Binyon's 'Ode To Remembrance', now 100 years old was read, a tribute to all casualties of war, regardless of nationality.
Birkaji Gurung, a Pittodrie staff member, himself a former member of the Gurkha Rifles read an Armistice Tribute in his native Nepalese. A significant number of Aberdeen's Gurkha community turned out to support Birkaji. They are always welcome guests who appreciate the efforts the club has made to welcome them as part of the Aberdeen and footballing community.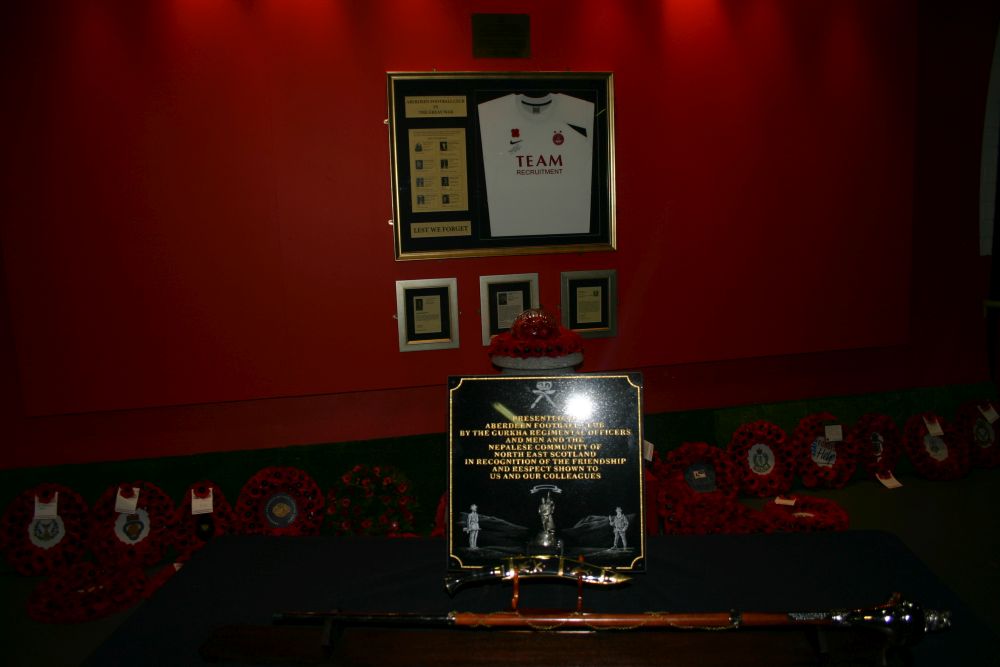 In a touching addition to this year's ceremony, Gurkha Menbahadur Gurung presented club chairman Stewart Milne with a commemorative plaque to mark the unique and lasting friendship between the club and the Gurkha community.
Strong links have been forged too between the Gurkha community and the Heritage Trust and Birkaji Gurung presented a ceremonial Gurkha mace and a Gurkha Kukri, the coveted regimental dagger, to Trust  Chairman Allan McKimmie to cement this friendship.
Each year, organisations demonstrating their respect and gratitude for those who died increases in number.
11 November 2014 saw wreaths laid by representatives of
Aberdeen Football Club
Aberdeen Football Club Community Trust
Aberdeen Football Club Former Players' Association
Aberdeen Football Club Heritage Trust
Aberdeen Universities Officer Training Corps
Air Training Corps
Bon Accord Sea Cadets
Dons Supporters Together
Gordon Highlanders
Gurkha Regiment
NE Scotland Disabled Veterans Association
Poppy Scotland
Queen's Own Cameron Highlanders
Royal Air Force
Royal Army Medical Corps
Royal British Legion Scotland
Royal Engineers
Royal Field Artillery
Royal Naval Reserve
Scots Guards
Soldiers Sailors and Army Forces Association
St Machar Academy
The Royal Naval Reserve wreath was laid by two primary 7 pupils from Danestone Primary School who were undertaking a Great War project focussing on Trimmer Fred Watson, commemorated on the memorial.
It was a moving and solemn event of remembrance and respect, a century on from the commencement and indescribable carnage of The Great War.
Comments enabled – see comments box below. Note, all comments will be moderated.