Hall Harper looks at what 'listing' a building really means.  Photographs Sarah Lynn.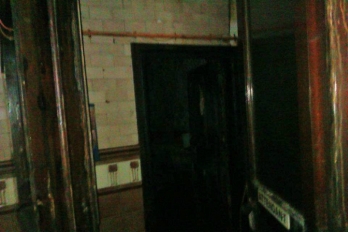 In 1990, the Civic Trust of Scotland first inaugurated an Open Doors Day in Glasgow and Ayr as part of that year's European City of Culture celebrations. Since then, the number of participating towns and cities has increased until now almost every area in Scotland has an Open Doors Day during which free access is allowed to various public buildings.
To decide which buildings will be included each year, the CTS invites the general public to nominate those buildings that they would be interested in seeing, with each local programme being created and managed by the Area Co-ordinator.
This year a number of people suggested that the Open Doors Day in September should include the Aberdeen City Council (ACC) owned, Category B listed, Victorian toilets in Union Terrace Gardens; a site that, according to CTS's Project Co-ordinator, Abigail Daly, was one in which there was a lot of interest.  Despite this, however, she last week contacted those who had proposed the toilets to tell them that they are not being included in this year's programme.
In her email she advised that CTS had asked the local co-ordinator, who is an employee of ACC, to make enquiries regarding the condition of the building and whether access would be possible, but that:
"Unfortunately we didn't hear back in time for the inclusion of the site into this year's programme, although we know there is a lot of enthusiasm and interest from members of the public." 
Following this, Sarah Lynn, a concerned member of the public, found last weekend that it was possible to simply walk into the ladies toilets in Union Terrace Gardens as they had been left open, apparently to allow traders from the International Market to access water.  What she saw there was, she said, disgusting "… and made me want to cry, to be honest."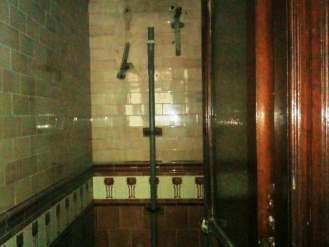 She was also able to take some photographs in order that others can be made aware of the distressing state of this listed building.
Hearing this and seeing the pictures that Sarah had taken, got me thinking about what 'listing' a building actually means, so I had a look at Historic Scotland's Guide to the Protection of Scotland's Listed Buildings.
This publication covers a number of areas including listed building consent, planning permission, repairs and the Buildings at Risk Register.
Reading through the document, however, it appears that 'listing' is more about owners having to get permission before making changes to a listed building rather than placing any obligation on them to maintain and repair it.
Owners must, therefore:
"check with the planning authority whether listed building consent is required before [they] carry out any internal or external alterations to a listed building."
And subsequently:
"If the proposed work is considered to have an adverse affect on the character of the building, the change may be discouraged and listed building consent may be refused by the planning authority."
They will also be required to seek both planning permission and listed buildings consent if they, "wish to alter or extend a listed building in any way which would affect its character and [the] proposed alteration is included in development for which planning permission is required."
When it comes to maintenance and repair, however, owners of listed buildings are only, " encouraged to repair and maintain their property, just like the owners of any other buildings."
The document goes on to record that:
"The legislation makes no express requirement for an owner to repair or maintain their property.  However, if an owner fails to keep a listed building in a reasonable state of repair, the planning authority may serve a Repairs Notice.  If an owner fails to comply with this notice, the planning authority, with the consent of Scottish Ministers, may be entitled to buy it by compulsory purchase."
But in the case of the UTG toilets, the owner who has failed to keep the listed building in a reasonable state of repair also happens to be the planning authority – so I suspect there is little chance of any action being taken under this provision.
Turning to the section on the Buildings at Risk Register it notes that the Register:
"… has been in operation in Scotland since 1990 in response to a concern at the growing number of listed buildings and buildings in Conservation Areas, that were vacant and had fallen into a state of disrepair."
A promising start.  But further reading of this section quickly dispels any hope that there might be some action possible as the register is really only a means to record buildings which are at risk, not one that will actually provide a level of authority that could require the owner to do something to reverse the situation.
As the document itself says:
"The Register acts as a valuable resource for initiatives aimed at helping to reduce the number of listed and historic buildings at risk and is one way to market a property to potential retailers at a price reflecting its condition."
In other words, being on the register might result in a building's purchase price being reduced to a level where a benefactor might be encouraged to buy and save it – but on the other hand …
Like most things these days, the Register is available online, and it is consequently extremely easy to check out which buildings in your area are 'at risk'.  I had a look to see what was recorded for Aberdeen and noted that there are a total of 26 'at risk' buildings registered in the city, 16 of which are parts of the category A listed Broadford Works in Maberley Street.
There are 26 'at risk' buildings registered in the city
Yes, that's right, the same Broadford Works in respect of which ACC recently served the owner with a Dangerous Buildings Notice that requires him carry out repair work and, if he doesn't, the Council can carry out the work on his behalf and send him the bill.
Another case of don't do as I do, do as I say?
So to sum up, it appears that we have a number of official organisations in place to keep records of old and valuable buildings, but no legislation in place that obliges their owners to preserve them.  Perhaps, given this situation, we can be forgiven for asking whether our heritage is safe in the hands of the bureaucrats, or whether the time has come for us to demand more of our public servants.