Voice has learned that Aberdeen's allotment holders may well be close to resolving their long- running dispute with Aberdeen City Council. The swingeing increases imposed in the Council's 2008 and 2009 budgets have added 152% to bills in a 12 month period for some gardeners. With thanks to Frank Taylor.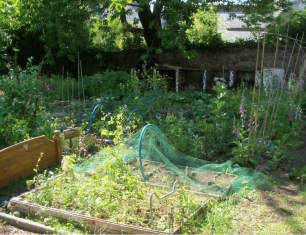 Readers may recall that Finance Minister John Swinney confirmed to local MSP Dr Nanette Milne that a local authority would not be entitled to collect rent under regulations which had not been formally confirmed by Scottish Ministers in terms of the Allotment (Scotland) Act 1892.
Regulations made under this provision have no legal effect without ministerial confirmation.
Aberdeen City Council maintained that legally it can to choose whether or not to make regulations for its allotments. Allotment holders do not dispute this, but when the Council claims it has chosen not to make regulations, allotment holders do dispute this.
The allotment holders feel that irrespective of what the Council says it has chosen to do, it has in fact made regulations, but by choosing not to have them confirmed by ministers, the Council has no legal right to enforce these.
The dispute is now at the Sheriff Court as the Council has raised proceedings against Frank Taylor, secretary of Bucksburn Allotments Association. Mr Taylor eventually lost patience with the Council, withheld the rent for his allotments and challenged the Council to raise proceedings against him for recovery of rent and possession to allow the Court to clarify the issues.
Mr taylor told Voice that he did not encourage the Council to raise proceedings against him 'without a great deal of thought and soul-searching'. There are extremely serious consequences for him should the Court find against him. He may have to surrender possession of his allotments and be found liable for the Council's costs as well as his own.
He is, however, extremely confident in the merits of his arguments.
The term 'regulations' is not defined in the allotments legislation and it is a well-established legal principle in such circumstances, that an undefined word shall be interpreted according to its normal and ordinary meaning.
'Regulation' is defined in the Oxford English Dictionary as 'a rule or directive made and maintained by an authority'. Aberdeen City Council is a local authority.  So, has ACC made any rules for the management of its allotments?
Before being granted tenancy, Aberdeen allotment holders are required to indicate their acceptance of a list of conditions in the Council's 'Conditions of Let' letter. Mr Taylor has provided us with a copy and points out that 'rule' is a synonym of 'Condition' in the Oxford Thesaurus of English.
That seems to put the issue beyond doubt, especially since the Council in its own Condition 9, refers to that condition as 'a rule'.
To reinforce his views, Mr Taylor says it is evident that the conditions imposed upon him are used to
Set the rent payable in terms of the contract and the date on which the initial rent is payable
Make a direction as to when the rent shall be reviewed and the dates on which future rents shall be payable
Govern the circumstances under which the landlord is entitled to resume possession
Direct who shall be entitled to assess compensation to a tenant on outgo and restrict the right of any other person to input into that process
Direct how the tenancy may be terminated by a tenant
Restrict the entitlement of a tenant to transfer the tenancy
Limit the use to which a tenant may put an allotment and restrict him/her from keeping livestock
Regulate the dimensions and type of hut that a tenant may seek to erect and control where it may be situated
Direct that a tenant may be removed if he does not achieve the required standard of husbandry.
The terms used – 'manage', 'administer', 'set', 'govern', 'restrict', 'limit', 'direct' and 'control' – are all synonyms of 'regulate'. There is no doubt that every condition in the Conditions of Let letters regulates, or has the effect of regulating, matters pertaining to the management and administration of allotments owned and let by a local authority.
So has Aberdeen City Council made regulations for its allotments? Has the Council made a regulation by setting a rent? Will a Court disagree with Mr Taylor? He is confident of winning the case..
The Council's Court Action has been founded on Conditions or an alleged breach thereof.  If the Court decides that these Conditions are Regulations, then the local authority's Court Action will automatically fail.