By Fred Wilkinson.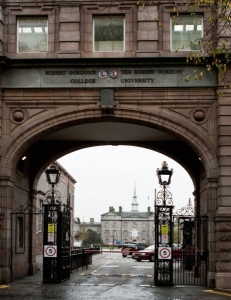 From an assortment of mail a few days ago, I picked out what I thought was my Musician's Union members magazine. It turned out to be issue 6 of  'Connect' – the magazine for alumni and friends of RGU. These arrive so infrequently, that I can't remember when I received the last one.
In light of recent events, and the idea that I don't like being called an alumnus any more than I consider myself a 'friend of RGU', I decided to write to RGU to 'cancel my subscription' and offer them illumination from an 'alumnus' with regard to my reasons.
Dear Sir/Madam.
Thank you for the latest edition of 'Connect' – the magazine for alumni and friends of Robert Gordon University. It's arrival through the letter box has always been welcome in that it reminds me of good times studying at RGU, and previously R.G.I.T.
It has always represented to me a sense of belonging, and a nice gesture in that despite the fact 10 years have passed since I completed my last course, RGU still remembers, and the door is always open.
However, delivery of this latest issue stirred up a completely different range of feelings.
The day I discovered that I had passed my HNC in Social Care ( inc SVQ 3 ) is one I will always remember with great pride and admittedly, much relief. Dedicated as I was to care work, the coursework was extremely valuable, and possession of said qualification allowed me to access some valuable opportunities and experiences, but more importantly, gave me confidence and equipped me to provide an improved level of care to service users, and confirmed to me the validity of my decision to follow a career in this worthwhile and rewarding profession.
How times have changed. Every single care establishment where I have worked has been closed down as Aberdeen City Council slashes budgets, and redefines who it has (or rather who it does not have) a responsibility to serve on the basis of need, means and/or ability. The very same organisation which seconded me to the HNC/SVQ in order that I would repay their faith in improved performance via improved knowledge, understanding and skills, now appears to have no need of my services, nor the services of many others with similar levels of experience and qualifications.
unlike Mr. Trump, I was obliged to finish my course (pardon the pun) before I received my award
In effect, the cutting of costs has devalued members of every vulnerable client group, every worker, and the social work service as a whole. Similarly, via the same decision making processes, my qualification has greatly diminished in value.
What little value it may have retained disappeared completely with RGU's decision to award Donald Trump an Honorary Doctorate, ironically at its faculty of Health and Social Care. I was of a mind to return said qualification in support of former principal David Kennedy and in protest over the award to Donald Trump. However, the moment where I had nothing better to do than look for a worthless piece of paper never quite materialised.
My qualification was achieved not only as a result of the excellent standard of tuition at RGU's Kepplestone premises, but  from two years of hard study, sleepless nights, a hunger to learn and succeed, and a constant battle with stress and self doubt. But unlike Mr. Trump, I was obliged to finish my course (pardon the pun) before I received my award despite the fact the level of my qualification is humble compared to that awarded to Mr. Trump.
The very idea of this ill advised Honorary Doctorate being handed over at a ceremony within premises designed for the education of professional carers – to an individual who has brought division, destruction, anxiety and misery to a small community and particular individuals – including an elderly woman is, frankly, sickening.
The idea of an establishment, dedicated to care, playing host to a man who publicly displays disregard and contempt for ordinary people – a man who publicly humiliates 'neighbours', and privately endorses acts which deeply hurt those same 'neighbours', would have been exceptionally bizarre if it didn't actually happen.
Therefore,  I ask, so that I can distance myself to some extent from the distasteful association between Donald Trump and RGU, that you will remove me from the mailing list and no longer send me 'the magazine for alumni and friends of RGU'. Whether your door is always open or not is of no consequence to myself anymore, and I live in hope that other alumni will follow my example.
If so, then there is a faint glimmer of hope that you will need to produce less, thereby preserving resources an offsetting a tiny proportion of the ecological and environmental destruction carried out in the name of Donald Trump.
Yours Faithfully,
Fred Wilkinson