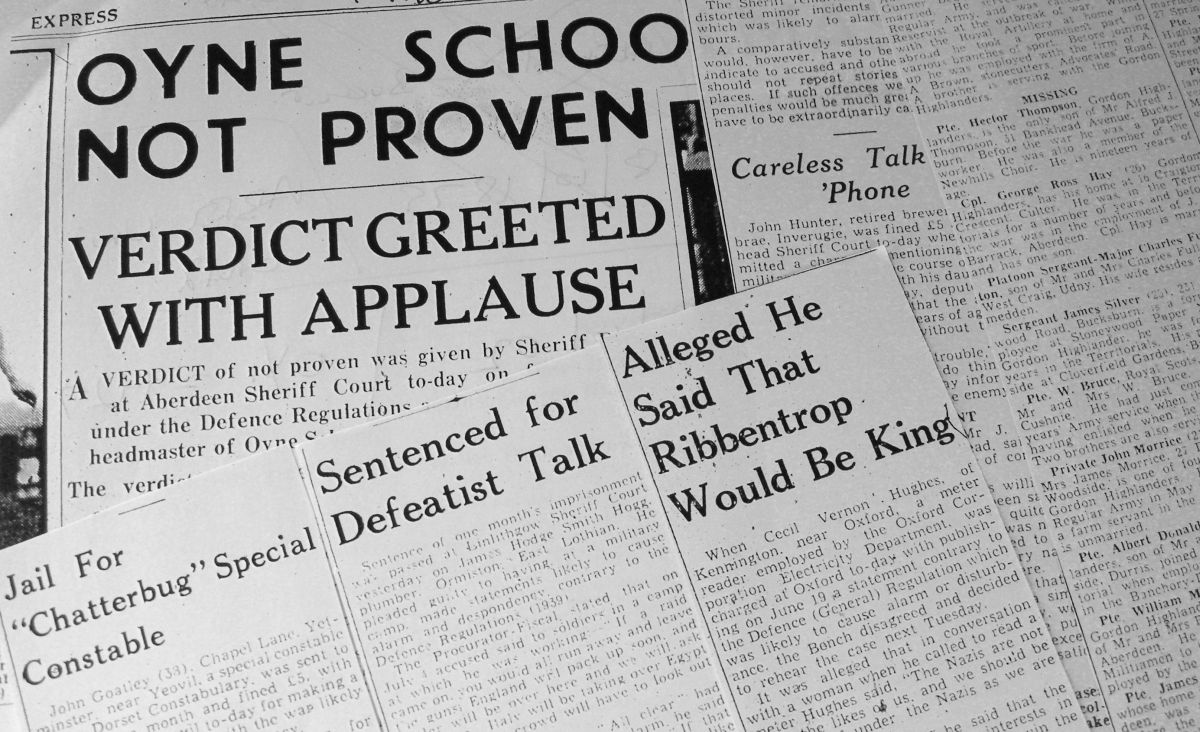 By Duncan Harley.
Freedom of speech is a fragile thing. Often hard won, it can be taken away at the stroke of a pen as an Aberdeenshire head teacher found to his cost in 1940.
Various Emergency Powers (Defence) Acts came into force in the early months of WW2.
Some, such as Defence Regulation 18B, provided a framework for internment of enemy aliens while others, like the Emergency Powers (Defence) Act 1939, gave the State wide-ranging powers to prosecute the war.
Aspects of life in the UK came under State control including the "apprehension, trial and punishment of persons offending against the Regulations." In short, anyone suspected of acting against the national interest in any way whatsoever might suffer the indignity of a pre-dawn knock at the door.
The village of Oyne was of course quite distant from the battlefields. It had narrowly escaped being bombed by a German Zeppelin in a previous conflict but in the big scheme of things Oyne was not a front-line target. Nor was it a hotbed of pro-Nazi sympathy.
This was 1940 however and a paranoid nation was smarting from the military defeat in France. Invasion loomed and an aerial bombing campaign had begun. Towns across the North east had been attacked and coastal shipping had been sunk by German planes off both Stonehaven and Peterhead.
The newspapers of the time are filled with reports of arrests for the offence of "Careless Talk." A meter reader from Oxford was detained after alleging "we should be just as well under the Nazi's as we are now!" A Dorset policeman was jailed for expressing similar sentiments and a Peterhead plumber was fined £5 for "careless talk on the phone."
Headmasters appear to have been at particular risk of prosecution. Overheard warning pupils that following imminent invasion they would have to resort to eating cats and dogs, a Lanarkshire headmaster found himself before a Hamilton Magistrate and at Oyne, George Hendry the local Primary School Headmaster, received the dreaded knock on the door in the late afternoon of June 24th.
The unwelcome visitor was Detective Inspector McHardy of Aberdeen City Police and, after suitable interrogation, Hendry was arrested on matters relating to the Defence Regulations. Lurid headlines followed and public interest was aroused.
Initially there was just the one charge. This related to statements made in the Union Street grocer's shop of Andrew Collie & Co. Witnesses alleged that Mr Hendry expressed the view that Neville Chamberlain had sold the country down the river and should be placed against a wall and shot. The King, he said, was off to Canada leaving the country "Holding the baby" and Hitler seemingly had sufficient Torpedo Boats to sink the entire British Navy.
Following arrest, Hendry was released on bail of £60. On Monday July 15th the curious of Aberdeenshire queued to witness what promised to be a juicy trial at Aberdeen Sheriff Court.
Mr Hendry by now faced four charges – the police had been busy.
Alongside remarks about the King and Hitler's naval prowess, there were allegations of him spreading alarm by remarking on Britain's unpreparedness for war.
One prosecution witness termed Hendry a fifth columnist and had ordered him out of her shop but under cross-examination admitted she had in fact been joking and considered him simply a leg-puller. Another witness told the court she had discussed the war with him on several occasions and that despite their differences, there was no bad blood between them.
Finally, the case against the Oyne headmaster boiled down to one very simple issue: the spreading of defeatist talk. In a fine piece of courtroom theatre, Mr Blades for the defence lured the manager of Collie's grocer shop into admitting that the case would never even have been brought had he himself not spread gossip about Mr Hendry's statements to a crowd, including a policeman, at the public bar of the Royal Athenaeum.
Sheriff Dallas had clearly heard quite enough. A verdict of Not Proven on all four charges was greeted with applause from the crowded courtroom.
George Hendry, a graduate of Aberdeen University, became Headmaster at Oyne in 1927 having previously taught in Forres. After the trial he returned to his post until his retiral, due to ill health, in 1963. He died in 1966 age just 63.
Duncan Harley is a writer living in the Garioch and author of the soon to be published A-Z of Curious Aberdeenshire: https://www.thehistorypress.co.uk/publication/the-a-z-of-curious-aberdeenshire/9780750983792/
'Hitler's Headmaster' was first published in the April 2017 edition of Leopard Magazine.
Comments enabled – see comments box below. Note, all comments will be moderated.