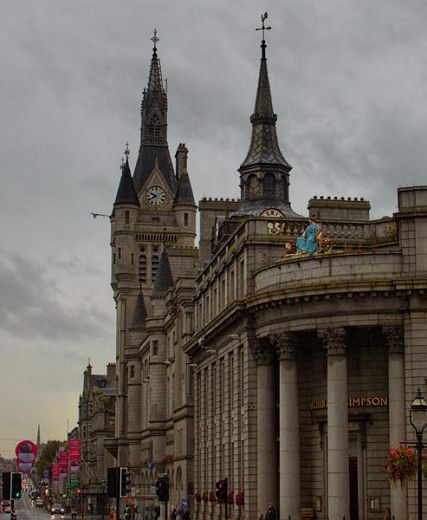 By Suzanne Kelly.
The Scottish Information Commissioner has agreed to investigate Aberdeen Voice's complaint as Aberdeen City Council claims 'it doesn't know' how much rent Aberdeen Journals Ltd pays for space in controversial Marischal Square.
Several parties have tried to obtain this information; and the information commissioner is investigating Suzanne Kelly's formal complaint into the city's recent refusal to disclose details.
According to an article published on Jan 27:
"Marischal Square.. is 75% let [after] just over two years… it is on track to achieve 100% occupancy later this year, defying critics who opposed the scheme and claimed it would become an expensive white elephant…"
Whichever Press & Journal hack wrote this piece praising Aberdeen City Council's contentious (and ugly) Marischal Square development likely did so from the offices the paper got cheaply from…ACC.
You could be forgiven for thinking a newspaper should not take a free rent deal from a council it should be investigating (and there is plenty to look into), but the P&J and sister paper Evening Express did just that.
The £107 million Marischal project achieved the unthinkable: replacing a hideous 70s building with an even uglier office complex, while managing to immure the 16th c Provost Skene's House inside a claustrophobic glass tomb. It ruins the setting for Marischal College across the road, as previously reported on by Piloti.
Other businesses thought to be enjoying sweetheart deals and free rent periods include multinationals with Chevron and EY set to move in. Why precisely such firms need to be subsidised is a mystery.
True to form, the city is releasing as little information as possible, however many FOI requests it receives.
It reluctantly admitted:
"Aberdeen Journals have been offered a rent-free period,"
and the current headline rent is £30 per square foot.
What dates the free rent covered, who agreed this deal and other details are 'confidential' according to the city. Despite public money being used to create the building and the public purse subsidising multinationals and newspapers, the city has clammed up. The Scottish Information Commissioner's office is expected to investigate.
ACC insists only management company CBRE knows how much rent each company pays, and that ACC only gets the total figure of rent CBRE collects. CBRE are saying nothing.
We do know that:
"The total rental income received via CBRE for Marischal Square to 30 September 2019 is £849,936.61."
The start of that time period? ACC aren't saying.
Exactly how much the building cost to build, how much in debt the cash-strapped city is, and what negative impact Marischal Square has on companies that were already desperate to rent existing office space remains a mystery for now. But, as the P&J reported in January 2020, the building is 'an award-winning success'.
Things moved on a bit since the paper reported on what it once called a 'controversial' and 'contentious' project. Councillor Willie Young claimed it would cost millions not to proceed with the project, but the P&J reported on March 5 2015 that there was scope to cancel the plans as some protesters wanted.
What possibly could have changed the paper's position?