Duncan Harley reviews Fittie Fittie Bang Bang @ HM Theatre Aberdeen.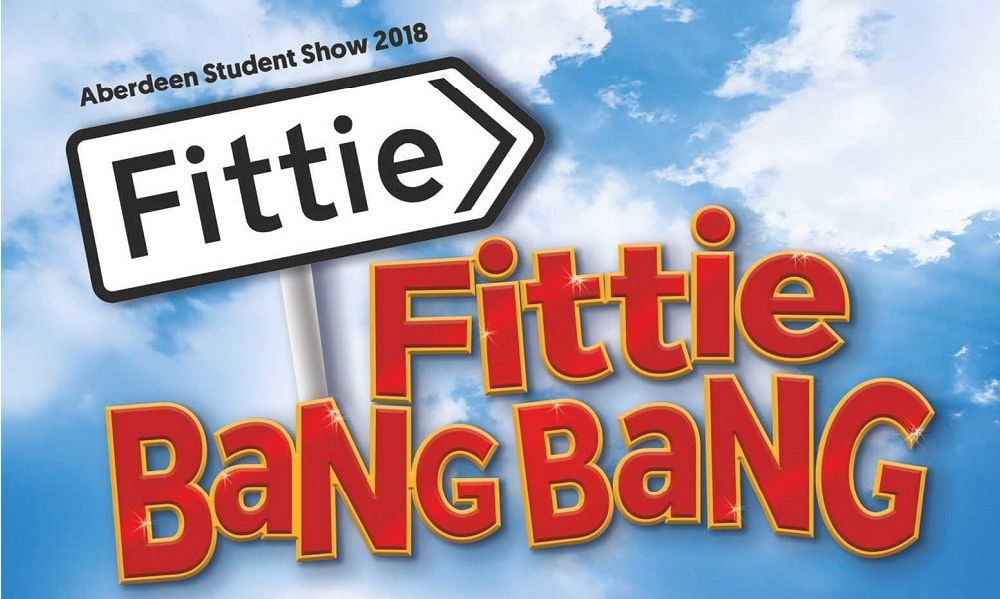 Broad Street may not quite be on a par with Broadway, but if this year's Aberdeen Student Charities Campaign production of the brand new musical Fittie Fittie Bang Bang is anything to go by, then theatre-wise at least, the Granite City is well on the way to becoming the Manhattan of the north.
Previous productions have included titles such as 'An American in Powis', 'A Midstocket Night's Scream' and of course last year's musical extravaganza 'Michty Mia!'.
However, this year's production of 'Fittie Fittie Bang Bang' must surely take the biscuit.
Bond writer Ian Fleming was a keen follower of motor racing and the original Chitty tale evolved from stories involving a series of monstrous aero-engined cars funded by the richly eccentric 'Bentley Boy' speed-king Count Louis Zborowski in those far off roaring twenties.
In the subsequent Hollywood production, the Chitty story involved one of Zborowski's racing cars being rescued from the scrapyard by a gang of cheerily red-faced middle-class school-children.
Fast forward to this week's student production of Fittie Fittie Bang Bang and a dastardly plot involving the consignment of Aberdeen's old folk to the scrapyard takes to the HMT stage.
With electoral fraud firmly to the fore, Trump look-alike Lord Provost Dean Fine plans to revive the ailing fortunes of the Granite City using a series of sinister measures intended to clear the streets of the elderly inhabitants of the city.
A suitably evil 'Grunny Catcher', ably played by Callum Anderson, is set loose and before long the city's OAP's begin to disappear. Provost Fine, played by Reece James Duncan, announces plans to build a border wall around Torry while in far off Fittie the search begins for the missing old folk of Aberdeen.
Enter Bradley Phillips as Dick Van Dyce, Becky Hossick as Provost's daughter Effie Fine and Victoria Barvinko as the Provost's trophy wife Nadine Fine.
Will the red-haired Lord Provost succeed in his dastardly scheme? Or can Dick and his merry gang rescue the imprisoned OAP's from a fate worse than death in Aberdeen's Marischal College Premier Retirement Home.
Add in a flying fish-van plus some splendid musical numbers and, judging by last nights full-house, last years total of £92k raised for local charities looks likely to be well on the way to being exceeded.
A 5 Star must see!
Musical direction is by Matthew Rose with choreography by Sophie Hamilton Pike and stage management by Graeme Shepherd.
The musical, Fittie Fittie Bang Bang plays at HMT Aberdeen until Saturday 21 April 2018
Tickets from Aberdeen Performing Arts Tel: 01224- 641122
Words © Duncan Harley and Images © HMT Aberdeen