By Jonathan Russell, Chair Aberdeen and District Campaign for Nuclear Disarmament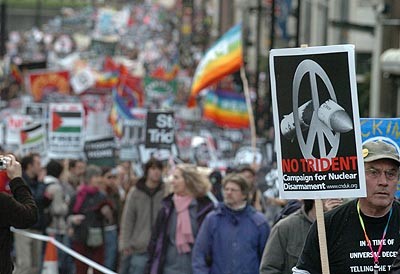 On Saturday 27th February the CND is calling a massive demonstration in London to protest against the renewal of Britain's nuclear weapons system: Trident.
The demonstration is being supported by local politicians from across the political divide the SNP, Labour and the Greens in Scotland who are all opposed to the renewal of Trident
Commenting Kirsty Blackman SNP, MP (Aberdeen North) said:
"The UK Government is on entirely the wrong track with its support for out-dated, immoral nuclear weapons.  A great turn out from members of the public at anti-Trident events keeps the pressure up on the Westminster Government."
 Commenting Dame Anne Begg ex Labour MP (Aberdeen South) said:
"I have been a lifelong unilateralist and have therefore never supported the UK having nuclear weapons.  I would like to see Britain get rid of our nuclear weapons to set an example to other countries. However, the first step should be to cancel any replacement of the Trident nuclear system and carry out a proper defence review looking at where the threats to our country come from today.
"We need a defence policy which addresses the world geo-political landscape at the beginning of the 21st century and not one which supposedly protects us from the threats from the mid-20th century. While I can't be there, I do hope people from Aberdeen will travel to London on 27th Feb to join the anti-Trident demonstration."
Maggie Chapman Co-Convenor of Green Party commented:
"Weapons that cause indiscriminate death and destruction are always immoral. Those that can't be deployed are also useless. The Westminster government claims we can't afford to have good jobs for our young people, decent care for our older people and clean energy for the future. Yet they want to waste obscene sums of money on weapons that are both useless and immoral.
"We must do everything we can to oppose Trident renewal. The 27th February march will be an important step on the road to ending nuclear weapons."
The majority of people in Scotland and increasingly those in the UK oppose nuclear weapons. They are weapons of mass destruction that can kill millions. They don't keep us safe and they divert resources from essential spending. And they are based here in Scotland.
Commenting Kevin Stewart SNP, MSP added:
 "When nuclear bombs were dropped on Japan, at the end of the Second World War, over 200,000 people died. Over seven decades later, that level of death and suffering might be hard for some to comprehend. Unfortunately, over that time our world leaders have developed new nuclear warheads, capable of even greater destruction.
 "Yet, the damage done by nuclear weapons extends further than that. It's estimated that replacing trident will cost £167 billion. At a time that people are being punished by the UK Government's budget cuts, that money could make huge differences to lives up and down the country.
 "Instead of punishing poor people, disabled folk, and our youngsters with harsh cuts while money is thrown at trident, we could instead prioritise nurses over nukes, teachers over trident and bairns over bombs."
Let's get the message out loud and clear: let's have a large Scottish block on the march to say Scrap Trident.
Christian Allard SNP, MSP commented:
"With regular marches and meetings in the North East and beyond it is apparent there is strong, popular opposition to the renewal of trident from the people who live here in Scotland.
 "We have political consensus as well in the Scottish Parliament, with the vast majority of MSPs voting against the renewal of the weapons system back in November 2015.
 "The last piece of the puzzle remains convincing UK politicians that getting rid of trident is the right thing to do. This march in London should be a catalyst that gets the Westminster government moving in the right direction."
 Jonathan Russell Chair of Aberdeen and District Campaign for Nuclear Disarmament said:
"There will be people from Aberdeen and Aberdeenshire travelling by both bus and train to the demonstration everyone who opposes Trident renewal is welcome to join us"
Buses will leave Glasgow (George Square) at 2100hrs on the Friday then onto Edinburgh (approx. 1hr 15mins later) then down to London. This will have us arriving early morning (so that the driver gets a rest).
We leave London at 1800hrs on Feb 27th. Accommodation available in Edinburgh if needed.
Tickets are £40 and £20. If you can't come but want to help you can give a DONATION  via Eventbrite to help subsidise the cost.
The EventBrite link is now open:
Bus from Scotland to CND Stop Trident Demo in London 27 Feb
Comments enabled – see comments box below. Note, all comments will be moderated.