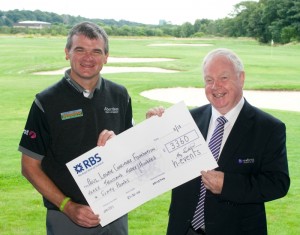 With thanks to Dave Macdermid.
A group of NE business professionals has presented over £3000 to the Paul Lawrie Charitable Foundation to help more youngsters play golf to the best of their ability in a fun-based environment.
Aberdeen based h-events' Managing Director Harvey Smith explained:
"Paul and his team do a fantastic job of getting kids interested in playing golf through his Charitable Foundation. h-events are fully supportive of their work and it was for that reason that we decided to seek the assistance of our guests who travelled with us on the Orient Express to the Open Championship at Muirfield. I am delighted to present this cheque for £3360 on behalf of all 276 clients whose generosity and support I very much appreciate."
The innovative method of travel was well received by h-events customers.
"Having booked the Orient Express in the past, I knew it would go down well and we sold out all the seats in less than a week. Travelling in luxury simply enhanced what was always going to be a memorable day and the customer feedback has already indicated that the trip was 'the best corporate event our company have ever done'. We are certainly planning to repeat the exercise at next year's Ryder Cup at Gleneagles," added Smith.
Lawrie, the 1999 Open champion and Ryder Cup star was delighted to accept the donation, and said:
"This is fantastic and really appreciated. The money will go towards the planned expansion of our academy over the coming months and I'm very grateful to Harvey and his guests."
h-events is now the foremost provider of sporting corporate hospitality in NE Scotland and will be expanding too, celebrating its seventh anniversary by opening a Glasgow office, as Smith outlined:
"Whilst the NE does enjoy its own micro economy and has been almost recession proof, enquiries from the central belt have increased to the extent that it makes sense to have a presence there. The demand for something just a bit different is always present.
"Whilst probably two-thirds of our business is sports-related, we're organising a St Andrews night ball on the Royal Yacht Britannia, the kind of event that we are looking at outwith the standard corporate hospitality package. We are increasing our market share of conference and events business with top speakers and entertainment never previously seen in the NE."