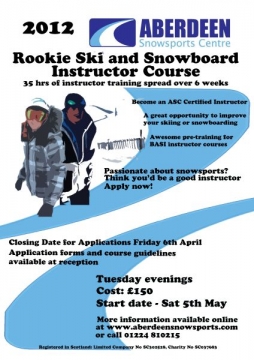 With thanks to
Dave Macdermid.
Aberdeen Snowsports Centre Instructor Training is a course designed to take applicants from recreational level participant to that of professional instructor in six weeks.
The training is geared toward creating employment in the growing snowsports industry locally and further afield.
The course will be held at Garthdee on Tuesdays from 5th May and it's open to competent, knowledgeable skiers and snowboarders over 16 with an outgoing personalities and a willingness to learn.
Successful candidates will be able to become instructors at the Centre or develop their career within the National Recognised system.
This will be the centre's fourth course delivered by highly-experienced qualified full time coaches, this time offering a revised syllabus covering personal performance improvement as well as teaching and instructional techniques.
It's a fantastic opportunity for anyone looking for a new career or experience in the snowsports industry and a rare chance to train locally rather than undertaking expensive tuition abroad. Previous participants have gone on to train further and live the dream of instructing abroad. The course has proved popular with working professionals who enjoy the release of instructing after a hard day at the office.
Past successful trainees include:
Neil Cameron (39), Casual Snowboard Instructor
"I was a nervous applicant and was persuaded to come on the course by the guys at Aberdeen Snowsports Centre.  The tuition was excellent and really improved my riding enabling me to understand how to use my board better and definitely made me a more accomplished rider. The skills given to me on the rookie course made the BASI Level 1 much easier and now I have the fun of teaching others to ride"
Jody Taylor (33), Casual Ski Instructor
"Through training on the Rookie Course last year the coaches have taken me from being able to get down a mountain to turning me into a skier. I now not only work at the slopes frequently, I met a great bunch of people along the way and the course has boosted my confidence no end!"
Joe Service (26), Casual Snowboard Instructor
"The snowboard rookie course is a great opportunity to develop your skills as a rider, develop your social life as a rider, and develop at the Centre as an instructor with the on-going instructor training."
Further details and application forms are available from Aberdeen Snowsports Centre or online at: www.aberdeensnowsports.com
The deadline for application is Friday 6 April.