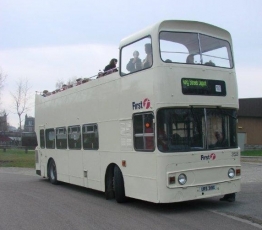 With thanks to
Dave Macdermid. 
Grampian Transport Museum's 30th anniversary season gets underway this Sunday from 10 a.m. with some extra special attractions to mark the occasion.
Grampian Transport Museum is open daily from 10 a.m. – 5 p.m. (4 p.m. in October) from Sunday until October 28th.
Curator Mike Ward explains:
"GTM is the museum of the past, present and even the future and for this season, we are looking back at the Alford Valley Railway, which operated between 1859 and 1965, with more than three hundred passengers catching the 7 a.m. train to Aberdeen every weekday in 1908.
"We are also, with the assistance of Nissan, considering the future of the car and are delighted to be offering fast charging points for electric vehicles every day while other aspects include 'Motor Spirit' – the story of the parallel development of the car and oil industry and Cycles Chronology.
"Among the wide selection of vehicles is the former Royal Land Rover, which was based at Balmoral, and several top quality events including the 30th Grampian Motorcycle Convention in September. And for the opening day on Sunday we have a magnum of vintage Champagne to share with our visitors."
Admission is £9 for adults, £7 for concession  one paying adult can be accompanied by up to 2 free children. Additional children £3 each and all children must be accompanied by an adult.  www.gtm.org.uk
For info – Dave Macdermid – dave.macdermid@bigpartnership.co.uk ; 07805 436988