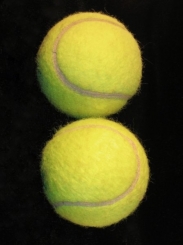 With thanks to
Dave Macdermid.
A place in the British section of the AEGON Team Tennis competition is up for grabs on Saturday when Rubislaw face Stirling University in Aberdeen with a noon start.
In November Rubislaw became the first club side from the north to lift the AEGON Team Tennis Scotland national league title, following victories over Braid, Milngavie, Strathgryffe, Glasgow Western and Livilands, to see them qualify for the Scottish play-off.
Rubislaw have announced a provisional squad comprising Bruce Strachan, Bruce McIver, Andrew Mott, Martin Harbord and Robert Ainsley, while the students will field Nick Hatchett, Joe Gill, Rihards Emulins and Jordan Mcculloch.
Rubislaw's 'Start of Season Fun day' will take place on Saturday 14th April, with a variety of organised fun activities and games taking place between noon and 5 p.m.
 Image credit: © Liz Van Steenburgh | Dreamstime.com