With thanks to Dave Macdermid.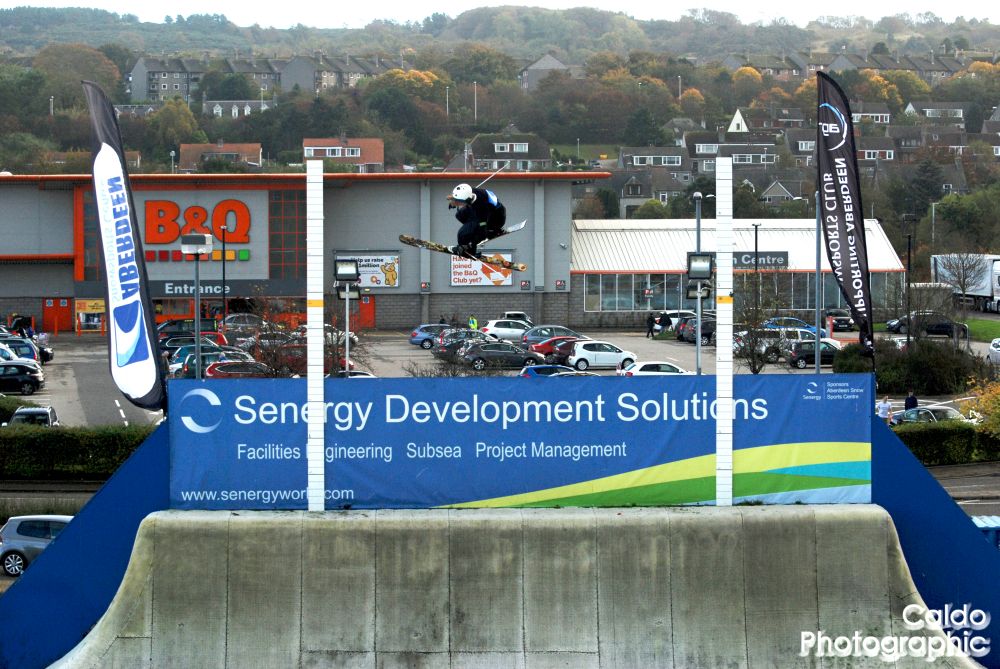 Aberdeen Snowsports Centre has just been confirmed as the Guinness World Record holder for the highest ski jump out of an artificial quarter pipe.
The event took place on 18th October 2014 at Aberdeen Snowsports Centre and featured two of the best up and coming freestyle skiers in Scotland: Rob Wilkinson and Grant Donald.
Both skiers took attempts at descending the slope at high speeds, battling gusty winds to launch themselves out of the quarter pipe, situated at the bottom of the 80m long slope.
Tyler Harding previously set the record at Rossendale ski slope two years ago at a height of 2.87m. At 1.48pm on Sat 18th October (the previous record holder's birthday) Rob Wilkinson smashed the previous record by over half a metre! The brand new record now stands at 3.4m.
Rob Wilkinson commented:
"I'm super pleased with our efforts, the wind made it tough, as it didn't leave much margin for error. If you get blown away from the quarter pipe 3 metres up, it's going to hurt! As soon as I landed it, I was thinking 'That was big!' Nevertheless, I'm really stoked with the result! It's crazy to think that I now actually hold a World Record."
A big thanks goes out to everyone that made it possible. Colin Harkness Joinery for the measuring poles, event organiser Zoe Lewis and both Jim Johnstone of FG Burnett Property Consultants and Nick McKlevey of BASI who were the two officials on site who witnessed the attempt on the record.
Comments enabled – see comments box below. Note, all comments will be moderated.