Shocked and angered by the deaths of two people on bikes in the space of a week, a group of Edinburgh cyclists has taken action on behalf of all cyclists in Scotland in drawing attention to the latest tragedies. With thanks to Sara Dorman.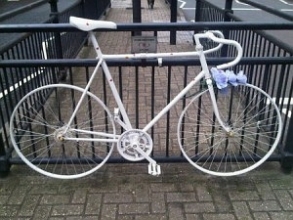 Two white-painted
ghost bikes
were left outside the Scottish Parliament on Monday 22 July to commemorate all eight cyclists including two children already killed in Scotland in 2013.
The number of cyclists killed on Scotland's roads in 2012 rose to nine from 2011's seven.
This looks set to rise again in 2013.
Almost as if to illustrate, grotesquely, the protest, just forty minutes after the sombre ceremony at the Parliament building, Mary Brook (59) of Drumnadrochit was killed as she cycled on Loch Ness side, the ninth cyclist to die on Scotland's road this year.
The Scottish Government has rejected calls made by Pedal on Parliament, public health experts and MSPs to increase spending on cycling infrastructure, including safe, separated cycle tracks, to £20 per head. The recent Cycling Action Plan for Scotland also rejected calls for the implementation of strict liability laws in civil cases, claiming that as road casualty figures were falling overall, there was no case to be made for this change.
Ghost bikes have been used around the world to mark locations of fatal cycle accidents, to act both as memorial and warning. Andy Arthur, a cyclist involved in the Holyrood installation, explained the reasoning behind it.
"We feel that the blame for these avoidable deaths must lie as much with the inaction of the Scottish Government as with the drivers concerned. The political leadership in Holyrood have the power and the budgets to do something about the safety of cycling, yet they seem to lack political will.
 "By leaving the memorial in full view of Parliament we hope it will stir our elected representatives into action, or else shame them for their inaction. It emerged spontaneously out of the real anger and hurt we felt at the news of yet another death this week, coming on top of the loss of two members of the Edinburgh Triathletes club in separate crashes this year.'"
Sara Dorman, among the organisers of Pedal on Parliament, said:
"Only two months ago 4000 people pedalled on the Scottish Parliament to ask for just £100m a year to make Scotland's roads safer for everyone, from eight to eighty, to cycle.
"Sadly, this year we've seen the death of an eight year old and someone who was almost eighty. Unfortunately, the state of our roads means that deaths are inevitable, as bikes are regularly brought into conflict with fast-moving traffic. Despite the government finding £3bn to dual the A9, supposedly on safety grounds, they've told us there's no money to increase investment in safer cycling and all they've suggested is an information campaign urging mutual respect, the sort of campaign which has failed over and over in the past.
"It seems that there's no sum too large to make the roads safer for driving, but when it comes to the safety of people on bikes, even children, then even the smallest sum is begrudged. We hope that Scotland's politicians will see these memorials and show real leadership in making cycling safer for everyone."
A memorial to all cyclists fatally-injured in the last five years was unveiled with the ghost bikes. It reads:
"This Memorial was placed here on July 22nd 2013 by a small group of Edinburgh cyclists; for and on behalf of all cyclists in Scotland. It has been placed here in memory of each cyclist killed on Scotland's roads in recent years; these were people's friends and loved ones; husbands and wives, fathers and mothers; sons and daughters; grandparents, aunts and uncles.
"The tally on this memorial shows how deaths amongst cyclists on Scotland's roads are increasing. In mid-2013, the per-capita death rate for cyclists on Scotland's roads is 3 times that of London. The Scottish Transport Secretary states that fatalities are down on our roads and that they are safer than ever. This is not the case, and the inaction and denial on the part of the Scottish Government must stop now.
"This Memorial accompanies Ghost Bikes, which have been placed outside the Scottish Parliament so that they are in full view of our elected representatives, who have the power, authority and budgets to do all that it takes to tackle the preventable loss of life on our roads. Ghost Bikes have been used all over the world as a memorial to cyclists who have been killed or severely injured on the road.
"All it takes for people to keep being killed cycling on Scotland's roads is for our Government to keep doing nothing"
Comments enabled – see comments box below. Note, all comments will be moderated.