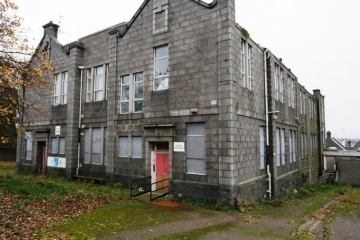 By
Graeme Milne.
There is something about schools, particularly old Victorian schools, that are a breeding ground for urban myths and tall tales of 'ghosts'.
I personally know of at least three in Aberdeen that are 'supposed to be haunted'.
Older kids take great delight in recounting these stories to the more sensitive, exaggerating them to the point where to set foot in the spirits' domain is asking for trouble.
Usually thought to be haunting the attic, a place associated with all manner of spookiness, the restless spirit would appear to be doomed to a life among the cobwebs and dusty books of these forbidden areas. That being said schools can be mildly spooky; places where imaginations run riot after the noise of the school day has dwindled.
Despite being a breeding ground for the fevered imaginations of the young, many of these buildings can, after closer scrutiny, be legitimately described as being haunted – as in the case of Victoria Road School.
It was with much sadness to pupils and parents that in 2008 Victoria Road School was deemed surplus to requirement and despite a campaign to keep it open, the building was closed. Today it lies empty, its future open to speculation.
Victoria Road School was essentially a school of two halves, the first part being built in 1878 after the Fisherman's Association of old Torry voted to pay £1400 towards the costs. On May 2nd 1878, Torry Public School, as it was once known, opened. The first headmaster Mr. William Yunnie had according to records the unenviable task of teaching 100 pupils in the 'main room'.
As the population increased, so did the need for space and by 1904 Victoria Road School, as it was renamed, was opened with the original part of the building being delegated as a base for teaching children of nursery age, a tradition which continued until its closure.
During my research I was told that a number of head teachers lived in the older part of the building, upstairs in a series of small rooms, a rumour that perhaps bears out as Miss Nesbit, head teacher, is listed in the 1905 Post Office Directory as being at that address.
During World War Two, the main body of the school was hit by a shell during a bombing raid causing massive damage. I am glad to say however that in true Dunkirk spirit it was quickly rebuilt despite the austerity of wartime. The school has always held an interest for me, not least because my daughter Geraldine once attended there.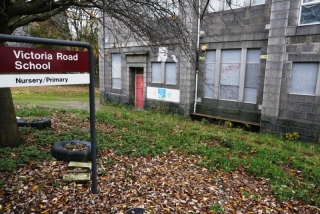 However there are many other reasons why this building remains a point of fascination for me and as you will have guessed it is due in no small part to the persistent rumours about it being haunted.
Since its closure I have made a point of speaking to as many former staff members and pupils as I can about the alleged activity and in particular about the sightings of a lady seen in what has been described as Victorian dress who was named  'Lizzie' by staff.
It must be said that during my research I have come to the conclusion that cleaners, apart from having to work long unsociable hours, have the added disadvantage or advantage, depending on your point of view, of usually being in the right place and right time to experience otherworldly phenomena.
Judging by what I have been told though, many do not consider it a perk of the job for which they should be grateful. Usually the first in a building or the last out at night, cleaners have to contend not only with overflowing bins but also the chance of bumping into someone, quite literally, that should no longer be there. Victoria Road School is no different in that respect as you will hear.
I first became aware of the rumours concerning the school while in conversation with my partner. Having spent many years working there she had obviously heard stories concerning the building, particularly the older part of the school which has a central gym hall with rooms running off it. The woodwork in this part of the building is Victorian and really quite grand with large dark coloured doors leading to the dining hall and class rooms.
  She looked very real, so much so I began to speak to her but she just went on through the gym door
Upstairs was the old school nurse's office which at that time was used for a variety of different purposes. Carol described how on one occasion she was in the room moving some boxes when she had an overpowering feeling that someone was also there, standing behind her. So tangible was the feeling that she left the area promptly.
She found the experience unnerving and after mentioning this to colleagues found out that others had experienced the same sense of being watched. I asked if she would mention my research to interested parties and was soon in receipt of a number of interesting tales, one of which described an actual full-bodied apparition that had been seen at close quarters.
But before we look at this example, the school administrator, Maureen, furnished me with the following account which has a great similarity to Carol's experience.
She stated,
"As a former pupil of the school I cannot remember any mention at that time of a 'ghost' while I was there so I cannot believe that what happened three years ago was in any way influenced by my childhood memories.
"As the school administrator I was spending the first week of the summer holidays working in the office. I had of course heard from other staff members of their experiences in the building but can honestly say that I took it all as nonsense, being quite a sceptical person myself.
"That day I was entirely alone in the building but was in no way bothered as I had worked alone in the holidays for many years. I was packing up and getting ready to go for the day. 
"I picked up my handbag and had just started to put my jacket on when I had the most uneasy feeling. I saw nothing and heard nothing but had the most overwhelming sensation that there was a presence outside the large office window. Needless to say I got out of the building as quickly as possible and felt extremely uneasy for a few days after."
When I asked if she had heard of any similar occurrences she stated that the school cleaners had always claimed to be aware of something but this had always occurred in the old school. This, as I have mentioned, was the original Torry Public school before it was renamed and extended.
With my interest piqued I was soon given an account by one of the long serving school cleaners who told me the following:
"The first time I felt anything was at the bottom of the school, the old part. It was an intense cold feeling that went away as quickly as it arrived. This happened several times. I just got used to it until one day while cleaning the gym my 'hoover' was switched off at the wall.
"I immediately thought it was one of my colleagues trying to get my attention but on turning round to speak was shocked to see a woman who was dressed in what I thought was 1900-1920's clothing. She looked very real, so much so I began to speak to her but she just went on through the gym door going towards the bottom part of the school. She literally vanished before my eyes.
"After that I began to hear footsteps quite regularly, always around 5.30 in the morning. Although I sometimes felt apprehensive I just carried on as normal until one day I was buffing the back corridor at around 6.30 in the morning when the buffer went what I can only describe as "funny", turning by itself and pinning me against the wall.
"At the same time the temperature went very cold. I got it shifted and then I shouted out to whoever was doing this to stop it! At other times doors would open and close. It didn't bother me though as you got used to it. Another strange thing is that you would also hear a lot of footsteps coming from certain areas as though children were walking through the corridors."
When I asked if she had any other experiences she would like to share she described an incident that happened during the 'big clean', which was a thorough top to bottom clean of the building once term had finished.
"I was late one year with the big clean and had to go back to the school gym area again to put on polish. I took two of my dogs with me. I got as far as the top area which leads to the gym when they both stopped and started to pull back and shake. One darted up to the top of the stairs while the other just lay down frozen to the spot and shook.
"I had to just get on with the polishing and leave them there till I had finished. It was very cold at that point and needless to say my dogs wouldn't come back into the school. I would often feel someone was watching me and used to say "hello Lizzie" when it got cold, however I didn't feel threatened apart from that time with the buffer. 
"A funny thing happened in the main corridor about a week before the school closed. The grandfather clock started to tick quite loudly but as you got nearer to it, it stopped. 
"Also in the last week there were more noises than usual heard all over the school, footsteps, doors banging and certain areas seemed to be abnormally cold. These cold spots seemed to appear all over the school and were very random. It was worse at the bottom end where the head teacher would have stayed. This used to be the old medical room."
I found the above accounts fascinating and when asked if she remembered anything else particularly relating to the time the figure was seen, she stated the following.
"The lady I saw looked like a teacher and I would say she was approximately five foot 3 to five foot five inches in height. She was very slim and had black hair all tied up on the top of her head. She wore lace up boots and a long skirt to her ankles. She also had on a white shirt and long black cardigan coat and seemed to be carrying something in her hands, which I could not make out. It was so vivid".
Intrigued, I began asking around if there were any other people in the area that had heard of these events but drew a blank. This, however was to change soon after when I attended a local community fair, and as luck would have it,  I had a chance meeting with Mary, a former worker at the school. She was tasked on occasion with locking up the building and told me the following which occurred at the end of her shift.
"Everyone knew about 'Lizzie' and she was seen a number of times over the years. This never happened in the newer part of the school but always in the original part.
"As you know there is a long flight of stairs that connects the two buildings and staff would always notice a difference in atmosphere and temperature between the two. I remember my friend having her 'hoover' switched off at the wall while cleaning and after switching it back on turned round only to see a figure of a woman in old fashioned clothes standing behind her. The building definitely had cold spots which would sometimes follow staff around.
"The main thing that happened to me was when I saw the figure of a man in the building which gave me quite a start. I was about to switch the lights off at the top of the stairs when I noticed a figure standing at the bottom. Thinking it was the janitor I shouted down and asked what he was doing.
"The figure never moved and so I shouted again and started to walk towards it. I got part way down when I noticed it wasn't the janitor at all. The figure instead, was that of a small skinny man wearing a flat cap. As I approached him he just vanished before my eyes. I was scared and I turned and ran from the building.
"The first thing I did when I got outside was to phone the supervisor who took the whole thing in her stride. The thing I remember most afterwards, was that I was perplexed as to who he was as most of the stories I had heard connected to the building seemed to relate to a female figure. I still wonder who he was."
I asked if she had any further information to impart and she continued:
"The funny thing is that we all knew about the sightings of 'Lizzie' but were told not to speak to the kids about her even though many parents asked questions. Apparently they did not want the kids finding out too much as they did not want to scare them. Now that the buildings are closed I have often wonder if she is still in there.
"I would have loved it if we could have got a medium in to help solve the mystery but I would imagine that would never have been allowed. The building definitely had an atmosphere and we knew who was responsible for this though I might add there was never a bad feeling."
So for now, Victoria Road School lies sadly empty and although I visited it frequently in the past, its secrets now lie dormant. Despite this my aim is to continue to gather evidence about this building as I have been told there are many other people out there who have experienced similar sightings.
The question is, who is or was 'Lizzie'? It would appear that many 'ghosts' are named as a means of humanising them and most alleged haunted houses seem to have a cheerfully named spirit or two, the school being no exception.
Interestingly if staff had looked through one of Aberdeen's old Post Office directories from early last century they would have noticed an entry stating the person residing at Torry Public School was a lady by the name of Miss E. Nisbet, occupation Headmistress.
 Comments enabled – see comments box below. Note, all comments will be moderated.