By Paul Kohn.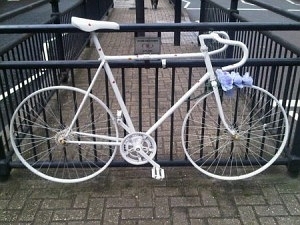 Ghost Bikes are small and sombre memorials for cyclists who have been killed or hit on the street. A bicycle is painted all-white and locked to a street sign near the crash site, accompanied by a small plaque.
They serve as a reminder of the tragedy that took place on an otherwise-anonymous street corner, and as quiet statements in support of cyclists' right to safe travel.
The first Ghost Bikes were created in St. Louis, Missouri in 2003. Currently, there are over 500 Ghost Bikes in over 180 locations throughout the world.
For those who create and install the memorials, the death of a fellow cyclist hits home. We all travel the same unsafe streets and face the same risks; it could just as easily be any one of us.
National Bike Week is coming up, from 16th to 24th of June.  In Aberdeen, events are being co-ordinated by Aberdeen Cycle Forum,
http://www.aberdeencycleforum.org.uk/index.php?pf=news.php&nid=131
As part of the week's activities, beCyCle, the community workshop based in Old Aberdeen, is organising the installation of Aberdeen's first Ghost Bike, at Garthdee. It is being placed in memory of Milena, a beCyCler who was hit by a lorry three years ago.
BeCyCle comments,
"Please  join us when we take the Ghost Bike from Aberdeen University to the roundabout in Garthdee. 
"This event will also see the launch of the beCyCle cycle helmet. There will be drinks and a snack provided."
This journey starts at 1100 at the beCyCle  workshop on High Street, Old Aberdeen, on Sunday 24 June.
http://becycle.wordpress.com/2012/04/30/aberdeens-first-ghost-bike/