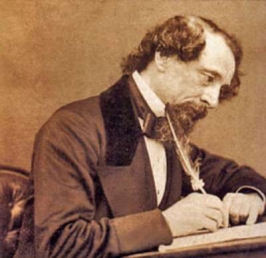 By
David Innes.
2012 is the bicentenary year of the birth of Charles Dickens, arguably the English language's greatest writer.
It is fitting then, that enthusiasts in Aberdeen are making positive moves towards establishing a local branch of the Dickens Fellowship, led by Dr Paul Schlicke, Honorary Senior Lecturer at the University of Aberdeen and a Trustee of The Charles Dickens Museum.
Dr Schlicke told Voice,
"I've proposed that we have a meeting to discuss dates, times, venue and not least what kinds of activities might be attractive to us as a group.
"Since these are early days, I think we'll hardly need to consider drafting a constitution or affiliating with the international Dickens Fellowship at this stage, but we do need to decide when, where and how often we wish to meet, and to discuss ideas as to what we might do at our meetings.
"We propose to hold perhaps six evening meetings a year, for lectures, discussions, readings and any other activities, as the local membership decides. Provisionally, membership will be free of charge.
"I stress that although I am myself a retired academic, I don't envisage scholarship as our primary purpose; rather we should be gathering to share our enjoyment of the Inimitable. Indeed, you don't need ever to have read a word of Dickens to join in the fun."
This chimes with the ethos of the international Dickens Fellowship which
"was founded in London in 1902 with its stated aim to 'knit together, in a common bond of friendship, lovers of the great master of humour and pathos, Charles Dickens', to spread the love of humanity, to campaign against those social evils that most concerned Dickens, and to assist in the preservation and purchase of buildings and objects associated with his name or mentioned in his works".
The first meeting will be held on Tuesday 12 June at 7pm in the lounge of the Belmont Cinema. Anyone with an interest in Dickens and his work will be made warmly welcome. To help gauge interest, please contact Dr Schlicke at p.schlicke@abdn.ac.uk if you intend coming along or if you want to be kept informed about the Fellowship.
It will be the best of times.
https://sites.google.com/site/aberdeendickensfellowship/
http://www.dickensfellowship.org/