A very special Cultural Hustings meeting will be taking place on Monday 23 April at 7.30pm in Kilau Coffee. Kilau is in Little Belmont Street, Aberdeen. It is being organised by Martin Milne who has had a long involvement with the arts in Aberdeen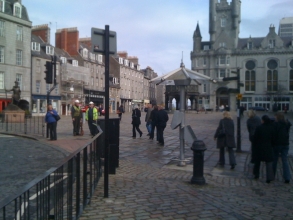 The only item on the agenda is culture in the city. As the City Council is a major provider and funder of arts and culture in Aberdeen, candidates' views are important.
In these financially- straitened times, many community, educational, amateur and professional activities are under threat.
At the same time as the city intends to bid to be UK City of Culture in 2017, a supporting case for the City Garden Project, budgets for community support are being cut.
The Five Year Business Plan promises to create and celebrate a cultural identity which is recognised locally, nationally and internationally but there has been no major capital spend locally on the arts for almost ten years. The long-awaited redevelopment of Aberdeen Art Gallery is still in the balance. Meanwhile, Dundee, Edinburgh and Glasgow have refurbished and built new museums, galleries and arts centres.
It is intended that representatives from the five main parties and independents who have an interest in cultural issues will be on the panel, chaired by Stewart Aitken, Artistic Director and CEO of Aberdeen International Youth Festival. Martin Milne says,
"We are hoping that people will submit topics for discussion before the event through the website, but there will be a chance to have your say on the night."
www.culturalhustingsaberdeen.wordpress.com
Note –  No level access, significant steps, no lift.