True to its collective-based roots, the Edinburgh Bicycle Co-operative's mission statement for its Revolution range is to make good quality bicycles more affordable. We like that. Thanks to Ged Holmyard and Sheila McLeod of EBC.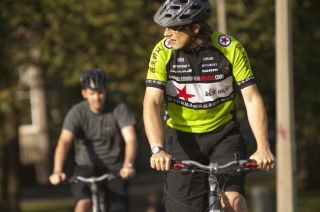 It's hard to pick up a newspaper or magazine these days without being reminded of the health, fitness and money-saving benefits of taking up cycling. Whether it's BMX star Shanaze Reade advertising bicycle-friendly budget hotels or pressure groups saddling up to ride on Parliament, cycling has never been so
en vogue
.
It's enough to convince you to take up cycling, but knowing where to start can be confusing.
The Co-operative's first advice is, 'Beware of BSOs (bicycle-shaped objects)'. BSOs are sold as bicycles in supermarkets, general stores and in the back pages of magazines, sometimes for as little as fifty quid. To produce a bike this cheap, corners are cut. It'll be heavy, the gears will most likely misfire and the brakes will barely work. Best of luck too, when you return the bike to the place of purchase, looking for a trained mechanic to put it right.
That's why, if you're looking for a bike, the firm recommendation is to visit a specialist bicycle shop.
But don't specialist bikes cost a fortune? They can be expensive, but not necessarily.
The 2012 range of Revolution bicycles, exclusive to the UK's original workers' co-operative bicycle retailer, suggests that Co-op has achieved its laudable ambition with panache and style.
There's a growing market for simple everyday inexpensive hybrid/commuter cycles that won't let you down and the Revolution Trailfinder proves that you can still get a decent bike from an independent bicycle retailer for £250.
For the rugged of wrist and tough of tush who go off-road, a hardtail mountain bike with reliable disc brakes and suspension forks is a necessity and the Revolution Ascent XC Disc delivers, as does its sister bike, the women's-specific Revolution Spur XC Disc for under £300.
The Revolution Courier is a fast single-speed flat-bar city bike at £289.99. Moving up the range smoothly and without dropping cadence, at the top is the Courier Hydro 27-speed, which comes in at £549.99. Competitive, given that it's equipped with a carbon fork and hydraulic disc brakes.
Revolution bikes will probably pay for themselves within a few months with savings on fuel and fares. One of the Voice team has had a Revolution Streetfinder commuter two-wheeler – in the catalogue at about £275 – since January and is clocking up miles comfortably and in a gentlemanly upright pose with no visible Lycra, thankfully. He loves it.
More information about the 2012 Revolution bike range is in the Bike Co-op's smart wee online sampler booklet, which can be quickly flicked through. EBC's website reveals all if you're looking for full details of the whole range or to order online.
If you want to see the Revolution range close up and test one out, they're all in Edinburgh Bicycle Co-op's shop at 458-464 George Street, Aberdeen. 'The revolution will not be motorised', they boast, and who could argue?