The rain stopped for a while last Sunday, but the sky was suitably overcast to set a sombre mood for the ceremony which installed Aberdeen's first Ghost Bike. Paul Kohn writes.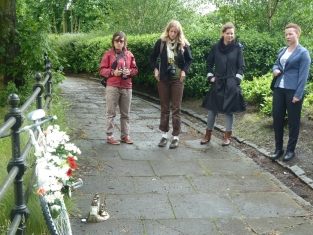 A group of around twenty cyclists set off from the beCyCle workshop in Old Aberdeen for the ride down to Garthdee roundabout where the memorial to Milena Gott-Konopacka has been installed.
Milena was knocked off her bicycle by a tanker driver in July 2009, and died eighteen months later in hospital after a long and finally unsuccessful struggle to recover.
Milena, a promising  science student at Aberdeen University,  was 20 when the accident occurred.
The ride from Old Aberdeen to Garthdee was not without its lighter moments: the contrast between Benedikt on the 'high bike' and another beCyCler on a recumbent turned quite a few heads on Union Street as we passed. There were some lovely cakes, and the usual great sense of camaraderie that develops when cyclists ride together.
On arrival at Bridge of Dee we were met by Milena's mother and family. She had come over from Poland for the event, and was visibly grieving but happy to be sharing that grief with some of Milena's Aberdeen friends. There was a brief but moving ceremony as those present placed flowers on the Ghost Bike.
When I returned to the spot about an hour later, I saw that Milena's mum had also returned to spend some time alone at the memorial.
All credit to Hannah Krueger and her friends at beCyCle for organising a moving and ultimately highly affirmative event . We were all happy to participate, although we hope that no more Ghost Bikes will be necessary in Aberdeen.