The first-ever graduates are emerging from Gray's School of Art Fashion programme (Fash@G); their collections debuted at Aberdeen's Academy on 2nd June of this year.  Second Year fashion student Ruby Coyne assesses the show for us.   Images by Ashley Duncan.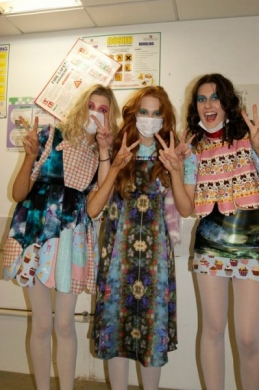 The long-awaited summer sun toasted he pavements of Belmont Street as a stream of folk filtered into the Academy, the venue of Fash@G's (Gray's School of Art Fashion) very first Graduate Fashion Show – this is the first class to graduate from the new course led by the reputable Kim Eason.
Now I have to say, I had no idea what to expect, and was sort of nervous as this in some senses, is what I have to live up to- I am currently fresh fashion meat having completed my first year of the Fashion course.
But moreover, I wanted them to rock it as its our reputation on the line. And boy did they deliver!
The Venue was a pristine white space, and rather eerily chilly compared to the sun-soaked beer garden outside. I was sat front row as I am a 'blogger'. I awaited the first tread of bambi legs on the catwalk as I sipped my mini Prosecco.
Now I shall not do a whole run through of all the collections, because let's face it some were better than others. So here's my top three that got the flash bulb on my FUJI fluttering…
First up was Kayleigh Archibald.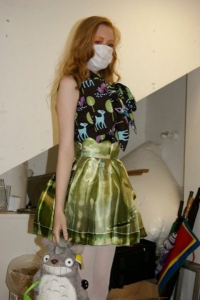 Like the girl herself, this was a little cutesy kooky collection.
Inspired by her worldly travels to Tokyo, it captured elements of sweet quirky prints and exaggerated bows and frills, yet a contrast with some neat and nifty tailoring.
However, the galactic print she used, reminded me of Christopher Kane's iconic S/S11 collection.
Intense blues, fixating purples and darting flashes of stellar component in quick flashes.
I think this collection charts the imaginative world of this young designer.
( click on pics to enlarge )
Next up, Heather Grant's creature collection.
As the bright lights shone on the first model, to my delight, animal ears perched perfectly on their tussled tresses.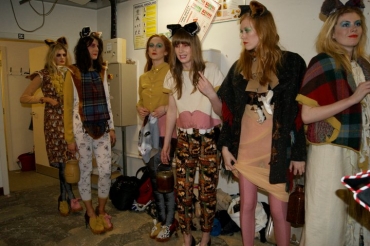 As the girls strutted round in a collection of murky mustards, picnic rug ponchos and some serious distressed edges, I felt all inquisitive, like Mr Fox himself. But as my eye focused on the print, I was amazed.
This girl took animal print to a whole new level. 'Leopard print' I hear you ask? Not a chance! Within the vintage floral prints were tiny appliqued kitten motifs!
Too cute. I think it is safe to say this was where the wild things were.
( click on pics to enlarge )
Finally, my favourite collection that nearly had me reaching out to grasp a piece for myself, Golem precious style. This was the very talented Sarah Struthers Collection.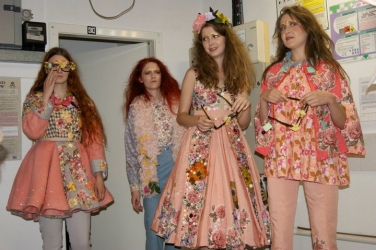 Picture yourself pressed up against a Parisian patisserie, captivated by cupcakes and decadent candies. Got it? Yeah, well that's how I felt.
The girls strutted out to a cute beat as the full silhouettes bounced and swung so sweetly.The colour pallet and print combination was basically a mix match of sorbet candies with various vintage dogtooth mixes.
The garments were heavily adorned with billions of buttons and frayed floral motifs.
( click on pics to enlarge )
My favourite piece?
Golly that's a tough one, so I'm going to pick two. Firstly, the accessorising. Geek chic glasses entwined with faux flowers and headdresses to make Florence Welch melt. And finally, the oversized jacket and pencil trouser combo.
I will beg, steal and borrow to get this look this summer.