Joshua Upton reports on a special tour run by Aberdeen against Austerity.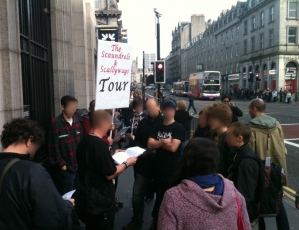 Scandalous! Outrageous! Unbelievable!
Just some of the cries that shook Aberdeen on Saturday, the day of Global Revolution.
Well, when I say shook, I mean lightly rattled. And when I say the whole of Aberdeen, I mean the staff of Topshop Union Street Branch.
But while not the PR coup Aberdeen Against Austerity may have been hoping for, their actions on Saturday 15th October certainly turned a large number of heads. Well, when I say a large number…
Back to the beginning. While cars burn, banks are attacked and protests bring hundreds of entire cities to a halt in 82 countries world wide, Apathetic Aberdeen had its own version of the Global Revolution – A guided tour of Union Street.
'A guided tour of Union Street?' I hear you say, 'Hardly worth mention'. Ah, but this was a special tour, run by those rabble-rousers at Aberdeen Against Austerity. Instead of showing the hidden beauty of Aberdeen, the Scoundrels and Scallywags tour of Aberdeen was dedicated to revealing the underbelly of corporate Aberdeen, and aimed to highlight tax avoidance and other nefarious deeds by Aberdeen's financial elite.
The tour began outside the St. Nicholas centre, with the initial target on the hit list being M & S.
Yes, M & S. The true good food we all know and love is not as good as we thought. A whole 19.08% of companies owned by the Marks and Spencer Group are located in tax havens.
What's more, workers in an Indian Marks and Spencer Group factory were getting paid as little a 26p per hour to make M & S clothes in 2010, well below international standards. This opening salvo of information turned a few heads outside, and some stopped to listen to the tour, however most people's attention was soaked up by the band playing a few metres away.
This leg of the tour caused a bit of a fuss, with the tour being expelled from the building and the police being called
Stop number two was an obvious one to say the least, Topshop. It is part of the Arcadia Group, which also owns Topman, BHS, Burton and Dorothy Perkins, to name but a few. The Group is run and administered by CEO Sir Philip Green, but is owned by his wife and sole shareholder, Tina Green.
As Tina is a resident of Monaco, Tina and Philip are able to minimize UK tax through this tax avoidance scheme. This leg of the tour caused a bit of a fuss, with the tour being expelled from the building and the police being called, but we'll get to that later.
Crossing back across the street, the tour arrived at RBS Union Street Branch.
The Taxpayer's generous donation of 24 billion to the banks in the form of bailout money was mentioned – which equates to £400 from every man, woman and child in the country. And then the issue of RBS' £25 billion tax avoidance schemes was raised. But then again, they are bankers, so not much of that should really come as a surprise, and no passers-by seemed surprised either.
Numero cuatro on the tour was Vodaphone, the scoundrels who have spent the last decade fighting doggedly  to avoid paying tax, with the sum so far coming up to 6 billion in unpaid tax. But Mr Osborne is a nice guy, and so let them off with not paying ANY of their unpaid tax.
In fact, he's SO nice that he decided to give Vodaphone a few of the top jobs as governmental advisors. Can you guess which department? That's right, In tax.
The next stop was by far the most eventful part of the tour. First, while walking to the Barclays branch on Union Street, it was noticed that someone was following the group, which it was then noted was the security guard from Topshop.
It seems he had become a vigilante in the last 15 minutes and decided to 'protect' the whole of Union Street from this band of roving 'Anarchists'; truly he is a hero of Aberdeen, although he eventually got bored and started talking to the security in HMV.
But yet more eventfulness occurred during the talk on Barclays (who, as well as being bankers – an instant sign of being a Scallywag – Barclays have a particularly nasty portfolio that includes both food speculation and a £7.3 billion investment in the arms trade sector, the largest global share) when, you guessed it again, the po-po turned up.  Forgive the terminology, I don't usually belittle the police, most just do their jobs, but what happened here can only really be called harassment.
Watch out Hidden Aberdeen Tours, you may soon find yourselves blacklisted as enemies of the state.  
While discussing the evils committed by Barclays, three police officers approached the group, apparently Topshop had lodged a complaint that the tour was being a nuisance, quite a feat seeing as the group was now about two hundred metres away.
The officers repeatedly asked for information and details from members of the group, which was refused each and every time, as they had no right to ask. They kept asking who was in charge, to which it was explained that no one was. And they kept referring to the tour as a protest.
Watch out Hidden Aberdeen Tours, you may soon find yourselves blacklisted as enemies of the state.
After the conclusion of the Barclays talk, and the departure of the police officers, the tour continued on its final leg with two concluding pieces on Union Terrace Gardens, Sir Ian Wood, and the mischievous dealings of Woodgroup PLC, mainly along the lines of tax avoidance (although not confirmed, it is believed that 26% of his companies are located in tax havens and he has skimped on paying his employer National Insurance contributions) and the false generosity of Sir Wood's £50 million to the Union Terrance Gardens Refurbishment.
Seeing as he already owes that money to the government in taxes, its not really a gift. It's like giving an old lady £20 after you assault and mug her of the same £20 the week before.
In all, while the Scoundrels and Scallywags tour of Aberdeen may not have had the same impact of the Rome protests, and it may not be as daring as the current Wall Street and St Paul's occupations, it was an important step for Aberdeen.
People's attention is being grabbed by the imaginative campaigns being carried out by Aberdeen Against Austerity, local doers of corporate evil are becoming more concerned about popular opposition, and it was one of the best attended actions to date.