With thanks to Neil Archibald.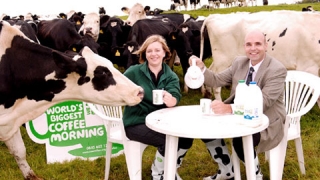 Pittodrie Stadium will be the venue for a fund-raising charity quiz night next week in aid of MacMillan Cancer Support. Organisers hope to raise over £1000 at the event which is one of several taking place locally on Friday 24th September.
There will also be coffee mornings at Storybook Glen and at Marks and Spencers stores in St Nicholas Centre and Union Square.
Tickets for the quiz night, which begins at 7.30pm, cost £10- this includes a stovie supper and two raffle tickets- and are available from charityquiznights@gmail.com.
This event coincides with 'The Worlds' Biggest Coffee Morning' – MacMillan Cancer Support's biggest fundraising event. People from all over the UK and beyond will be holding coffee mornings, and donations on the day will be forwarded to MacMillan.
M&S Café are the charity's new official partner, and have been running special promotions since early August to raise funds for MacMillan. On 24th September M&S Café will donate 50p for every coffee sold.
Last year's coffee morning helped raise an amazing £7.9 million for people living with cancer.
To find a coffee morning near you, click here