By Sue Edwards.

The Scottish Green Party has announced that Aberdeenshire councillor Dr Martin Ford will top the party's North-East regional list for next year's Scottish Parliament elections followed by local branch convenor Rhonda Reekie.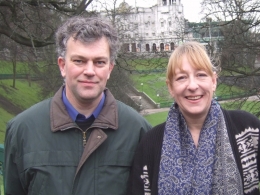 One of the North-east's best-known political figures, Councillor Ford has for over twenty years consistently argued the case for stronger action to tackle climate change. He is a strong advocate for improving public transport.
Recently, he has played a leading role in championing the rights of the home-owners at Menie threatened by the expansion of Donald Trump's planned golf resort.
Councillor Ford has argued that the Aberdeen Western Peripheral Route is unaffordable and that, with limited funding available, priority should be given to badly needed new school buildings instead.
Councillor Martin Ford said:
"The North-East desperately needs some new MSPs. No-one in Parliament currently represents the thousands of North-East residents who want to see priority to given to investing in education, instead of expensive and ineffective road building. The vast majority of North-East MSPs have remained completely silent on the threat of eviction hanging over the residents at Menie. All of them are backing transport schemes that will increase carbon emissions while claiming to be committed to tackling climate change."
We have the opportunity to re-draw Scotland's political landscape next year
"The North-East needs a strong Green voice in Holyrood, someone local people can trust and who will put the community's interest before short-term and unsustainable profiteering. I am therefore most grateful to the Scottish Green Party's membership for giving me the chance to be their top candidate and I will fight for every vote across the North-East next May."
The Scottish Green Party is confident of increasing its representation at Holyrood next year. In the North-East, with an experienced and well-known lead candidate, the Party has high hopes of success, having held a seat here between 2003 and 2007. In addition, an extra seat has been added to the North-East list to reflect population change, reducing the percentage of votes required to secure election next May. If the Greens poll more than about 6 per cent of the party votes in the North-East next year, Councillor Ford will become one of the North-East's representatives at Holyrood.
Patrick Harvie MSP, the Scottish Green Party's co-convenor, said:
"The 2011 election will be an important moment, where Scots can vote for a positive agenda of social justice and safeguarding the environment instead of the failed centre-right agenda of the rest. Every other political party at Holyrood supported that agenda – growth obsessed, free market dominated and environmentally reckless – while the Greens predicted their failure."
"Now a vicious programme of public service cuts is proposed as the solution. The alternative is to cut the vanity projects and protect the vital services; to realise the opportunities of a low-waste, low-energy, low-carbon economy; and to put quality of life ahead of the selfish values of the right which have dominated our politics for far too long. We have the opportunity to re-draw Scotland's political landscape next year. I urge everyone who wants to see that happen to get involved with the Greens and help make it a reality."
We will be campaigning to protect the green spaces in our cities, towns and villages – including supporting the campaign to preserve Union Terrace Gardens
"Martin Ford has proved himself to be a person of enormous integrity and courage, prepared to stand up for local people no matter the pressure others have tried to put him under. The people of the North-East deserve a chance to vote for representatives they can trust, and in both Martin and Rhonda they have exactly that."
Rhonda Reekie said:
"Greens will be fighting a positive campaign. Against the background of cuts to both the Scottish and council budgets, we will be arguing for priority to be given to protecting vital public services. We will be pressing for effective action to fight climate change – for example by redirecting transport spending to public transport improvements. We will be campaigning to protect the green spaces in our cities, towns and villages – including supporting the campaign to preserve Union Terrace Gardens in Aberdeen."
"The Green Party can win in the North-East next year. Shiona Baird was elected here in 2003. We have proved ourselves in the Scottish Parliament and now have a presence at Westminster too. A Green vote next year will make a real difference and get Green MSPs elected."
Martin Ford was first elected to Aberdeenshire Council eleven years ago, and served as chairman of the Council's Audit Committee for five years and then chairman of the Infrastructure Services Committee, until the Council removed him in retaliation for his vote against Donald Trump's golf resort. Amongst his other roles, Martin was chairman of the North-East Scotland Rail Freight Development Group for ten years and led the successful campaign to get the rail line between Aberdeen and the Central Belt upgraded. A botanist by training, Martin has a Ph.D. in plant ecology.
Rhonda Reekie has been Branch Convenor of Aberdeen and Aberdeenshire Greens for 4 years and is vice-chair of Bucksburn and Newhills Community Council. Rhonda fought Aberdeen South in the general elections of 2005 and 2010 and stood on the North-East list in 2007 for the Scottish Green Party.