Aberdeen Forward …Aberdeen Forward …Aberdeen Forward …Aberdeen Forward …
Feeling creative? Fed up of buying cards and gifts, when you'd rather give something handmade? Aberdeen Forward's series of craft workshops can help you reuse and recycle scrap materials to create stunning, individual cards and presents – but you may want to keep them for  yourself!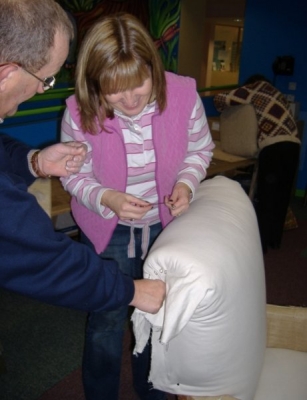 Part of the Transition Workshop series, the sessions aim to help you cut your carbon footprint and live more sustainably. Choose from card making, gift making or rag rugging – or combine gifts and cards in the special pre-Christmas series.  Friends and family will really appreciate the care that goes into a unique handmade gift – and you'll save yourself a fortune!
The rag-rugging and card making courses run for 3 weeks and cost £9 per course for members of our Community Waste Exchange, while the gift making runs for 6 weeks and costs £18. Membership itself is a bargain at £12 for a whole year.
Rag rugging takes place on Tuesday mornings (starting 24th August), gifts on Tuesday afternoons (starting 24th August) and card making on Wednesday afternoons (starting 25th August). Our combined Christmas gifts and cards (starting 21st October) will run on Thursday evenings. All sessions take place at Aberdeen Forward's central Aberdeen offices at 2 Poynernook Road, AB11 5RW.
Aberdeen Forward also runs sessions on soft furnishings, recycled fashion design, sewing and upholstery – perfect to complement your new creative skills.
Book your place on a course, or for any other information on these and other workshops, email us on admin@abzforward.plus.com, phone us on 01224 560360, or visit www.aberdeenforward.org .
We're looking forward to helping you re-skill for a lower carbon lifestyle.
For further information, please contact Corrie Cheyne
T: 01224 560360
M: 07738 987256
E: transition@abzforward.plus.com
Funding has been provided by the Climate Challenge Fund.
Aberdeen Forward is a registered charity: Scottish Charity no SCO34866