With thanks to Corrie Cheyne.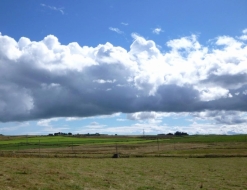 As part of Climate Week, local environmental charity Aberdeen Forward is running its own one-hour Climate Challenge.
On Wednesday 23rd March, between 1.00pm and 3.00pm, people will get together to try and solve a mystery climate problem, which will be posted online.
It could be to design an innovative recycling programme or a brand new low-carbon product.
It might be to creatively find new uses for old objects, or harness natural resources like wind and sunlight.
On the day, the question will be revealed, and after some discussion, an answer will be submitted to a national 'ideas bank'.
Corrie Cheyne of Aberdeen Forward said:
"Your ideas count – no matter how daft, far-fetched or outlandish, we want to hear them! Join us to solve the climate challenge, and also to take a look back at our Transition Project to see what's been achieved. We'll provide snacks and drinks; you take along your imagination and creativity!"
Contact: Corrie Cheyne at Aberdeen Forward for more details: 01224 560360, or email transition@abzforward.plus.com
You can find out more about the Challenge at www.climateweek.com/challenge/