By Dave Watt, with thanks to Aberdeen CND.

In recent years, on the evening of 6 August, hundreds of people have gathered at the Fishermen's Hut on the River Dee at Riverside Drive to remember the men, women and children who died in the world's first nuclear attack, sixty five years ago.
It is both moving and picturesque to see two hundred paper lanterns floating down the river towards the sea – each lantern
representing a thousand of the 200,000 people who died in Hiroshima. This number includes 100,000 killed outright in the explosion and a further 100,000 who died in the days immediately after the attack or indeed years later.
People of all nationalities attend and last year, for the first time, citizens from Aberdeen's Japanese community attended and were made especially welcome. Short contributions from student organisations, trade unions, faith groups and political leaders traditionally help bring together the diverse groups in a united spirit of remembrance.
This spirit of reconciliation and remembrance is something which everyone who attends will want to see flourish. Citizens of the city should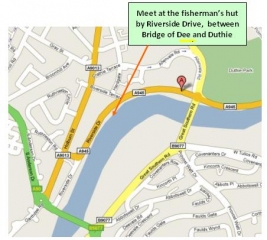 take pride in the fact that on 12 July, Aberdeen and Nagasaki, the other Japanese city struck in August 1945, signed a Friendship Agreement. With any luck, such fraternal contact will encourage people to look for more peaceful ways of settling international differences in the future.
The Hiroshima Memorial Day event will take place on Friday 6 August at 8.30pm at the Fishermen's Hut on the River Dee (see map).
For more information on Aberdeen CND, click here.