Attack Of The Herbals is a low-budget and independently-produced horror comedy film – think Shaun of the Dead meets Evil Dead – set in NE Scotland, shooting primarily in Newtonhill and Johnshaven.
Portlethen-based David Keith, the film's director, told Aberdeen Voice, "Last year we won the London Horror Festival's 2 Days Later short film competition. Our Dead-Funny won five out of the seven categories – Best Film, Best Director, Best Cinematography, Best Editing and Best Sound. Our Demonic was also shortlisted for the Jim Pool Scottish Screen Short Film Awards in 2009. Whilst in London we were approached by a producer who encouraged us to shoot a horror comedy which would be of interest to companies like Working Title Films with whom he had worked and which was responsible for Four Weddings and a Funeral and About a Boy.
"Attack Of The Herbals has a cast of local Aberdeen actors who have turned up and worked for free. The crew comprises friends and family and they've helped greatly in getting the movie from script to screen.
"The movie's currently attracting significant interest from small independent US distributors and has been given heavy publicity on various US film production websites. It's even been promoted as far as Germany, unbelievable considering we've only released a select few clips and a teaser trailer.
"Attack Of The Herbals is only one of a handful of films being shot on the Canon 5D HD video camera, also adopted by George Lucas to shoot his upcoming Star Wars series due out next year. It was used to film the finale of House and was more recently employed on a Kyle Minogue video. Our use of this camera is generating publicity on forums worldwide, as it's one of the first HD cameras to shoot on a full 35mm frame which gives the same look as Hollywood film cameras.
"Attack Of The Herbals is halfway through production and we're looking for people or companies interested in investing in it to take some of the financial strain off the production.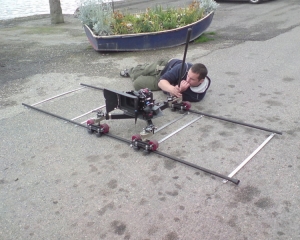 It's becoming increasingly hard to keep progressing on a tight budget of more or less friends and family money. We're also desperately looking for mature local actors interested in starring roles and in filling out the remaining cast.
"Its been tough trying to get the movie made using our own money but the interest and support we've been getting worldwide is pushing us to complete it and make it as good as it can be."
Of the current cast, actor Richard Currie admitted, "Making this film at times has been hellish, but everyone involved is pulling together to make something special". Fellow cast member Liam Matheson enthused, "Everyone involved should be proud of Herbals. It will make people sit up and take notice of the talent the NE has to offer. After all, a romantic horror-based comedy in Aberdeen – nobody can say it's been done before!"
Attack Of The Herbals will be going for a distribution deal at the 2011Cannes Film Festival.
The film's official website can be viewed here and any actors or potential investors can make contact via info@clear-focus.net
Aberdeen Voice wishes David and his team every success and would love to be kept in touch as this project moves towards the success their hard work and enthusiasm deserves.