In an ongoing attack on Aberdeen Voice and its contributor Suzanne Kelly, Northfield Animal Haven alleged on Facebook that the police were looking into events and had supplied a bundle of documents to Northfield's owner. However, the police recently confirmed in writing that this claim by Northfield was a fabrication. By Suzanne Kelly.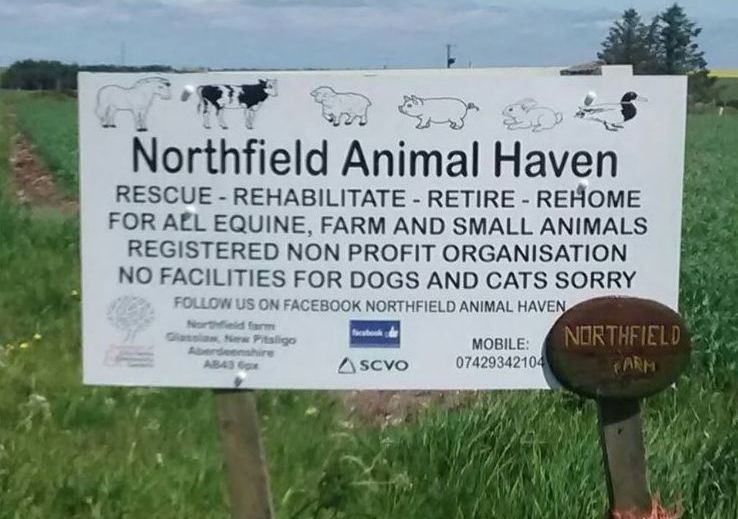 Northfield Animal Haven's activities have been exposed in previous Aberdeen Voice articles, and the shelter/farm have often used social media to try to throw doubt on the facts exposed.
In one instance, Northfield Animal Haven took to Facebook in September 2016 to claim the police were involved.
The police have just recently confirmed in a two page letter to me that this is completely, totally untrue.
Northfield wrote:
"… finally getting a resolution on that carry-on we have had to endure, spent this afternoon at police station speaking with the officers this so next stage is set in motion hopefully I can update you all about this very soon."
The post on the Animal business' Facebook page was accompanied by a photograph of what appears to be a thick bundle of documents with the Police Scotland logo showing, handwriting, and the name of an officer.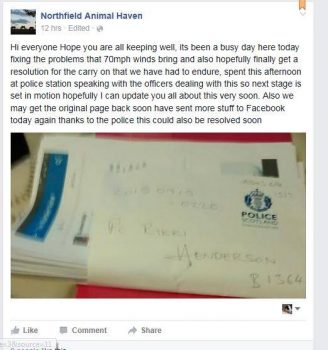 The post on the Animal business's Facebook page was accompanied by a photograph of what appears to be a thick bundle of documents with the Police Scotland logo showing, handwriting, and the name of an officer.
I had been trying to get the police to comment on this bogus-looking documentation and claim for some time.
It is a great vindication that they've dismissed Kelly Cable's/Northfield's claims entirely.
The police wrote a two-page letter to me on 22 April 2018; the entire contents have been shown to the editors of Aberdeen Voice.
The letter read in part:
"Police Scotland would not permit or allow any private individual to photograph, copy or have access to any Police investigation paperwork without instructions from the Procurator Fiscal.
"I can confirm that this is not a Police Scotland investigation file."
The letter continued:
"…he (the police officer whose name appears on the documents pictured on Northfield's post) has stated that he has in fact had no involvement at any time with the establishment or the person named."
Ms Cable was asked to explain the bundle of documents and the assertion she had spent an afternoon about a 'carry on' at a police station. As per the previous articles, we asked for her to comment on the situation.
She has refused to explain where the bundle came from and her claim the police were involved.
However, a lawyer from Brodies, which seems about to sue me over my articles, wrote to my lawyer with a demand to stop me writing this or other articles.
As I explained to my lawyer, I have a right and a responsibility to share factual information that is in the public interest, and I have a freedom of expression guaranteed by EU Human Rights law. People who donate money to any cause should have access to the relevant facts.
Northfield has called me a liar by name on social media. The owner's father named me in an alleged break-in at the farm that resulted in a pony being overfed to death (NB other animals have died at the business in feeding-related circumstances), and 'joked' about using an AK47 to 'solve' the problem.
I look forward to hearing from Brodies, which Kelly Cable is briefing about taking me to court, as to how they explain this latest embarrassing deception. I can't wait to hear what the 'next stage' Northfield referred to in their post is.
Clearly Kelly Cable knew she didn't spend an afternoon in a police station; she knew she didn't get a bundle of documents from the police, and she knew that this officer Henderson was in no way involved. But someone cooked this story up.
Whoever wrote it did so as a representative of Northfield Animal Haven – and Northfield Animal Haven should be held to account.
I suspect that using a Police Scotland logo as Cable did may well be a criminal action; we'll see.
If they do take me to court, I have a very strong suspicion who would be believed – and it's not the convicted benefit fraudster Ms Cable, caught in yet another deception aimed, in my opinion, at making me look bad and deceiving social media visitors to the NAH page about events.
Even the fundraising she created to raise money to sue me seems to be misleading: I feel an obligation to let people who are giving her money know that this bundle of evidence is a fabrication, disowned by Police Scotland.
Comments enabled – see comments box below. Note, all comments will be moderated.
[Aberdeen Voice accepts and welcomes contributions from all sides/angles pertaining to any issue. Views and opinions expressed in any article are entirely those of the writer/contributor, and inclusion in our publication does not constitute support or endorsement of these by Aberdeen Voice as an organisation or any of its team members.]