Further questions arise over Northfield Animal Haven's owner Kelly Cable. Aberdeen Voice can reveal Cable's past includes a guilty plea for several years of claiming benefits illegally. 
A charity that seeks donations must be wholly above board. Northfield Animal Haven is certainly pushing the envelope as they:
Advertise widely that they 'save all farm animals' – in truth the owners are also involved in breeding farm animals for sale as meat, claiming 'everyone knows' that is how they operate, and claiming that since they don't slaughter the animals they sell personally, it doesn't count;
Run a GoFundMe campaign to save 6 Shetland ponies in imminent danger – but claim the owner will only allow Northfield to take the animals – which could have been rescued by now;
Use the image of 'Gooseberry' on this GoFundMe appeal – a white Shetland colt that was dealt with by another animal shelter and needs no assistance;
Have similarly used photos of other animals they were not involved with – in at least one instance claiming they were involved directly
Suzanne Kelly reports.
Aberdeen Voice can reveal that Kelly Cable entered a guilty plea for obtaining benefits she was not entitled to. This involved falsifying employment data, falsifying income and not disclosing where she lived. The value of the Housing Benefit and Council Tax Benefit ran to approximately £3,600.
The fraud spanned 2006 to 2009; misleading information was supplied on at least half a dozen occasions. (As an aside, the next time anyone complains they don't get enough benefits, or that refugees are getting help, remember that benefit fraud is stealing from the taxpayer and from those in serious need).
Kelly and  her then partner borrowed £10,000 for a house purchase, and both signed to repay their share of the loan.
As per Aberdeen Voice's earlier article, Kelly refused to pay her half, claiming it was not her signature on the loan agreement. A handwriting expert declared that Kelly had signed. The money remains unpaid; the grandparents she borrowed some of the money from have since passed away.
Kelly was also bankrupt; she disputes the date of a document Aberdeen Voice has on this bankruptcy; we await her clarification.
Kelly was irate in one of her communications to the Voice, asking how she could get a mortgage if she had been bankrupt. How indeed someone can get a mortgage who has been bankrupt, who has been found guilty of benefit fraud, and who has a brain tumour is a fair question.
Perhaps the 180 hours of community service Cable did atoned for this fraud. However, when the misleading appeals for funds, the misleading use of animals belonging to others, the unpaid past loan, the bankruptcy are added to this, a picture emerges of someone who may not entirely have been rehabilitated.
While Aberdeen Voice is investigating this operation, Kelly Cable has claimed to receive death threats, claimed to have a brain tumour (presumably the one she had some years back, which she mentions in a handwritten note), and claims to be running a perfectly honest, above-board animal rescue.
Aberdeen Voice initially questioned where these six Shetland ponies are, who owns them, and why the charity is using photographs of animals they have no contact with in its advertising. We would now like to ask whether or not there are actually six Shetland ponies out there in danger of being sold for meat, whose owner will not let anyone but Northfield do the rescue.
Aberdeen Voice would like to ask the Haven if it understands why some people feel they have been misled.
Aberdeen Voice will turn its information over to the relevant authorities, citing particular concerns about finances and misleading advertising. Future developments will be reported.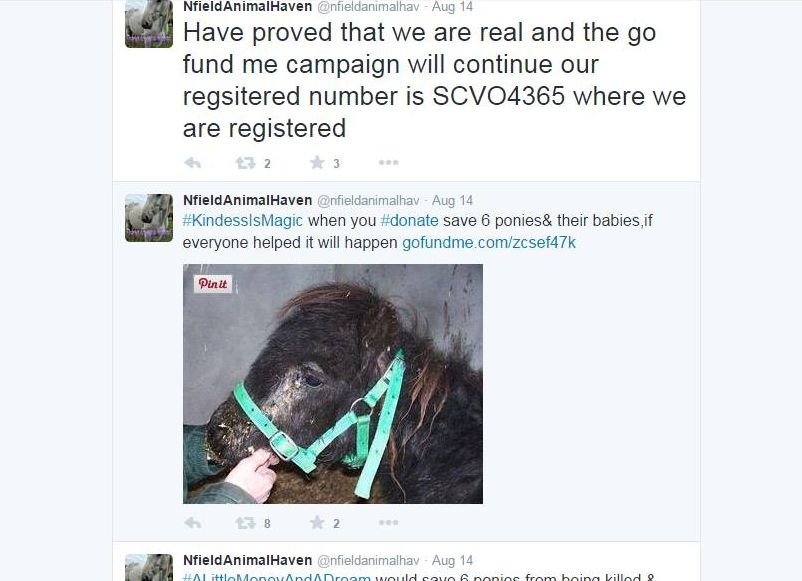 As a parting thought, here is a Tweet from Northfield, claiming they have proved they are real.
The photo is actually from a 2011 Northern Ireland rescue, and is not related to Northfield saving 'ponies and their babies'.
Saving ewes and their babies doesn't make the grade however, whatever the Northfield sign and other appeals say.  As to proof the organisation is real, this falls just a bit flat.
Comments enabled – see comments box below. Note, all comments will be moderated.
[Aberdeen Voice accepts and welcomes contributions from all sides/angles pertaining to any issue. Views and opinions expressed in any article are entirely those of the writer/contributor, and inclusion in our publication does not constitute support or endorsement of these by Aberdeen Voice as an organisation or any of its team members.]