Dave Macdermid tells Voice: One of Aberdeen Sports Village's longest standing members has been presented with an outstanding achievement award. David Cheshire, a member since the Sports Village opened in 2009, was presented with his plaque by personal trainer, choreographer to the stars and face of the BBC's Athens 2004 Olympic campaign, Steve Agyei.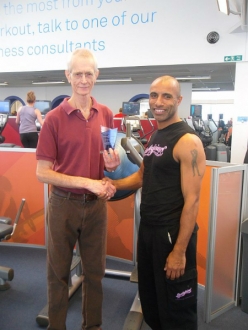 The award recognises all the hard work David has put in to achieve an incredible 1 million Fitlinxx points through use of the gym and exercise classes.
Unbelievably, this equates to over 150,000 minutes of cardio vascular exercise and lifting almost 10 million kilos, equivalent to lifting more than 1500 elephants!
Fitlinxx is a sophisticated fitness management system, which is directly linked to fitness equipment and is designed to guide users through workouts to maximise the gym experience. It adds an extraordinary intelligent dimension to workouts.
Steve Agyei has a very impressive background, working with Beyonce, JLo and Mariah Carey. Sports-wise he has worked with David Beckham, Chelsea FC and Olympic legend Daley Thompson.
Children 1st Fun Runs
Steve will be helping rally the runners at the Children 1st Spring Prom Series Fun Runs, sponsored by Aberdeen Sports Village and Metro Running Club, this April.
These events are open to anyone over 11, regardless of ability, and comprise two 3km runs and one 5km run along the beach prom in aid of Children 1st.
Steve will be attending the runs to motivate and advise runners before the race. He believes this is a great springboard for the summer running season and said, "With local events such as the Baker Hughes 10k and Run Balmoral coming up, it is a great way to help you prepare physically and mentally. Equally for those new to running, a 3k is a great introduction and an ideal target distance to aim for".
The Fun Runs cost only £2 per race and applications forms are available at Aberdeen Sports Village website www.aberdeensportsvillage.com
For further information on the work of Children 1st: www.children1st.org.uk.