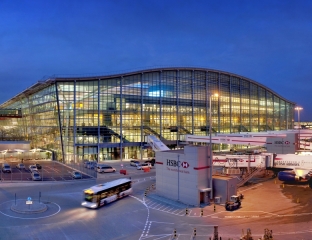 With thanks to
Dave Macdermid
.
The campaign undertaken by Nestrans, the statutory regional transport partnership for the North-east of Scotland, to urge the European Union to exert powers to protect the current level of slots to and from Aberdeen at London's Heathrow Terminal 5 has received the support from the airports concerned.
Derek Provan, Managing Director at Aberdeen Airport, commented.
"The regular connection into Heathrow is essential to the area as it gives access to one of the major international airline hubs and also a short connection into the centre of London. Scotland is geographically distant from the main European hub airports and, particularly in the north of the country; we have no viable surface access to them. We are also seeking to rebalance our economy by growing our exports, increasing inward investment and attracting more tourists, in line with the UK Government's Economic Strategy.
"We are building on the increasing exports derived from the knowledge and skills base of our energy supply chain expertise and from our premium food and drinks industry, both of which are making a substantial contribution to the UK economy with significant potential for growth.
"In addition, it gives easy access from the south to the international businesses located in and around Aberdeen and the economic benefit of having this link cannot be overestimated."
These views are complemented by BAA Strategy Director Andrew Macmillan, who is based at Heathrow.
"Heathrow's position as the leading international hub airport in Europe gives the UK, and the companies that operate here, direct access to the global markets upon which strong economic growth depends. Connectivity has been central to building and maintaining the UK's global trading position over the past three hundred years, and it is essential in these difficult economic times that we maintain and improve links between as many different economies as possible."
Nestrans is collating the views of businesses, politicians and individuals in advance of the UK Government's aviation consultation, from which the EU will consider options for aviation policy going forward.