By Dave Guthrie.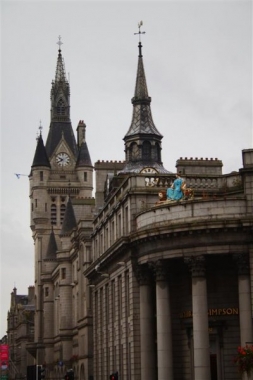 As the public purse-strings draw tighter, local government has been looking at alternative financing to carry through development and redevelopment projects. After many years of borrowing and spending beyond their means, the obvious – perhaps the only – source remaining is the private sector.
Last year Oxford Economics, in a report on Aberdeen, said that during the economic downturn opportunities would present themselves with quality resources being available to businesses and organisations much cheaper than at the city's economic peak in 2007 and that a lower cost-base could be achieved without trade-off against quality of location or accommodation.
By definition the private sector – business and commercial interests – exist to make a profit, expand and pay dividends to shareholders. There can be public benefits – increased employment etc. – but these are essentially by-products. Any public/private partnership will therefore involve some compromise on both sides. Aberdeen City Council has been exploring several innovative funding mechanisms with the aim of carrying through their City Masterplan.
The three main ones are:
Tax Incremental Funding [TIF],
The City Development Company [CDC],
and the Business Improvement District [BID].
TIF.
This is a financial model pioneered and now widely used in the US. It allows a local authority to borrow money for specific infrastructure developments. The loan is secured against expected tax revenue increases resulting from the development. [new businesses attracted to the area, higher taxes etc.] allowing repayment over a 10 to 20 year period. The Scottish Government has sent out encouraging signals about this scheme and in January of this year Edinburgh City Council's proposal to borrow £84m for the redevelopment of Leith Port was approved. Glasgow City Council and North Lanarkshire Council have similar plans in the pipeline. As does Aberdeen City Council.
Borrowing against future unknown tax revenues is not without its risks, however. Responsibility for any shortfall would be an important issue and councils are likely to choose partnership with a commercial developer thus sharing the risk. Another danger is that a TIF-supported development may not actually produce increased tax revenue, just move it from one area to another. In the US, TIF projects compete with one another. [In Chicago there are now 500 such schemes].
So, TIF is a tried and tested model for kick-starting large development schemes but like other funding models it is complex and not without its dangers.
CDC:
A City Development Company is a mechanism which allows local authorities to use their assets to attract long-term investment from the private sector to finance regeneration projects. Also known as a Local Asset Based Vehicle [LABV], it provides a route whereby public and private sectors pool land, finance, expertise and powers and allocate risks and returns from targeted projects
An Aberdeen CDC [AC/DC?] would seek to identify and 'remediate' pockets of 'market failure' within the city, capturing value for targeted beneficiaries. Suggested examples so far include; Union Terrace Gardens, Bon Accord Baths, Denburn Health Centre and Park, St Nicholas House, Aberdeen Exhibition and Conference Centre, Chapel Street Car Park, Summerhill Education Centre, Granitehill and Greenferns. The City Council would be encouraged to 'leverage' these assets through the CDC in partnership with the private sector.
BID
Aberdeen Business Improvement District is a proposal being implemented by Aberdeen City Centre Association in partnership with the City Council. Funded jointly by a compulsory levy on businesses within the area supplemented by the local authority, the BID aims to provide a more vibrant and viable town centre and encourage more input from business managers and owners towards regeneration of the area.
The area covered by BID is likely to include Union Street and most of the city centre from Union Square and Guild Street in the south to John Street in the North.