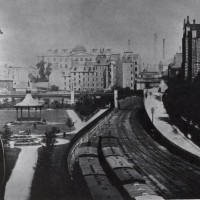 Written by John Aberdein.
Dear Councillor,
Like, I daresay, the vast majority of Aberdonians and Aberdeen-dwellers, I believe in cherishing the city's character, in proper maintenance of the city's assets, and in sustainable improvements to the city's infrastructure.
I take it that we agree that to guarantee such cherishing, maintenance and sustainable improvement is your responsibility as a councillor, along with your fellow-councillors. No-one can legitimately 'wait and see what happens'. You have a responsibility to take control of events. That is what the democratic process is about – or it is nothing.
If the democratic process becomes sidelined, then we are all in deep trouble.
Signs of trouble
A. The growth of influence of undemocratic ACSEF
ACSEF was founded as a Forum so that the economic future of the region could be discussed between the public and private sectors. But in 2008 it decided that it would change its name to Future, and that it would take responsibility for delivering economic change. But ACSEF is not a democratic body. The following would seem to be some of the failures of ACSEF to meet the basic criteria of a democratic body:
ACSEF has no constitution, but only a 'charter' which it wrote and approved itself. The majority of its members are appointed, no-one is specifically elected to ACSEF. Neither you, the councillors, nor we, the citizens, have any control over who comprises the majority on ACSEF. It is a self-perpetuating body. So if ACSEF makes appalling decisions, such as the decision to initiate a £300,000 public money consultation on the City Square Project then refuse to accept the consultation's findings, there is no mechanism to hold anyone responsible.
The democratic failings of ACSEF go further. My researches show that the public are not allowed to attend their meetings. They do not publish their accounts. All the funding of ACSEF to date has come from the public sector, yet 10 of the 14 current members are from the private sector. Certain private sector interests may stand to benefit from ACSEF-directed policy, but it would appear that no-one declares an interest and leaves ACSEF meetings, as would be obligatory for you to do as a councillor in a council meeting. There appear to be no ACSEF board members with any direct expertise in city planning, city architecture or environmental strategy, yet ACSEF continually seek to 'deliver' in these areas. The minutes of ACSEF meetings published on their website show no sign of the motions and amendments of proper democratic bodies. Here for example is the complete (somewhat bald perhaps?) minute of a vital item from the meeting of 18th June:
"In recognition of Aberdeen City Council's meeting on the following day (Wednesday 19th May) and its consideration of the City Square project the Board exchanged views on the potential impact of the Council's decision on the wider issue of City Centre development and future investment potential for the City and wider region."
Added together, these failings of ACSEF comprise not so much a democratic deficit, as a democratic chasm. Councillors already have an Enterprise, Planning & Infrastructure Committee, all of whose members are responsible to the Aberdeen city electorate. Is it not high time that EP&I took back control from ACSEF, and that ACSEF was reminded that it is a Forum and has no mandate as a 'delivery' body?
B. The failure of council to follow its own policy
On May 19th councillors passed unanimously a City Centre Development Framework, a professional overview of the city centre's physical assets, their value and potential. Yet within a matter of hours council had approved by a majority a move towards a design competition based on parameters that breach that framework. To say that onlookers were stunned is an understatement.
Your Development Framework approves the idea of extending a terrace behind Belmont Street over the Denburn dual carriageway. It does not approve raising the whole Denburn / Union Terrace Gardens area to street level. Your Development Framework approves increasing access to Union Terrace Gardens. It does not approve destroying them.
C. The failure of council to take decisions that have severe financial implications based on a secure and approved financial route
On 19th May the Council decided that the development then known as the City Square Project would be largely funded by Tax Increment Finance (TIF). Under Freedom of Information legislation, I have since sought, both from Aberdeen City Council and the Scottish Government, any evidence that this method of funding has been agreed, or indeed properly discussed. After the expiry of the FOI response period yesterday, the only evidence offered by either Aberdeen City Council or the Scottish Government is as I have attached to this email.
From the attached it is clear that there is 1) no evidence that match-funding will be forthcoming from Scottish Government (as Malcolm Webb of UK Oil and Gas suggested in a letter read approvingly to Council by Lord Provost Peter Stephen at beginning of the meeting of 19th May) and 2) no evidence that TIF has been approved.
Summing-up, therefore, the position would seem to be:
a) there is a massive democratic chasm with ACSEF;
b) the City Centre Development Framework has been breached by the design competition parameters;
c) there is a potential financial black hole with the City Square / Gardens / Whatever / Project deeper than Rubislaw Quarry.
Straight question: You as a councillor may very well agree with some or all of the substance of the points I have made in this letter, in which case I am reassured and glad. But if you do not agree, can you as a councillor justify the current position to me?
Taken all in all, I think the people of Aberdeen are looking forward to decisive amendments to get Aberdeen City Council back on track at tomorrow's meeting on June 30th. Sir Ian Wood's offer of £50 million to help regenerate the city centre is a generous one. There are undoubtedly ways that the city centre could be carefully and properly enhanced over time, with or without that particular donation. I personally would support 100% careful and proper enhancement.
But any solution must be able surely to stand up to environmental, financial and democratic scrutiny – and surely must be designed to heal the present divisions that are threatening to tear the city apart?
With best wishes,
Yours sincerely,
John Aberdein