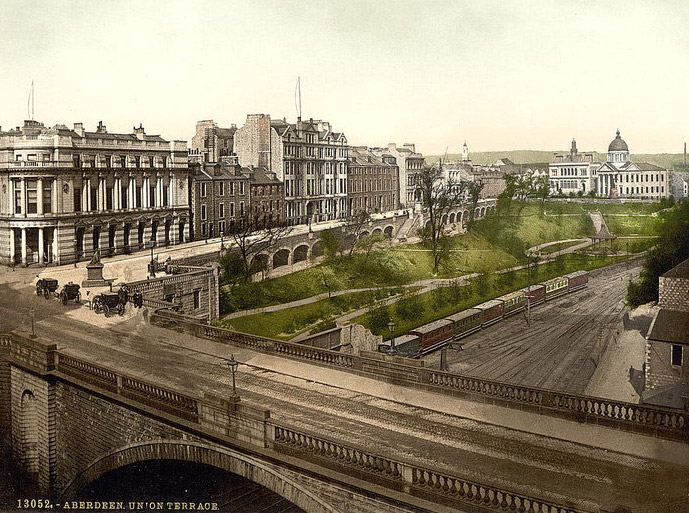 Saturday 12 June saw over a thousand people assemble for a picnic in Union Terrace Gardens, a mass event organised to inform people about the City Square Project. A diverse range of people visited to voice their concerns, get more information and exchange views. As everyone enjoyed the gathering, Friends of Union Terrace Gardens stewards provided writing equipment to encourage people to contact councillors to make clear the discontent with the decision to destroy the Gardens in favour of a city square. I chatted to an 84 year old lady, whose grandmother took her there and who has done the same with her children and grandchildren. She was distressed by the prospect of destruction of the Gardens. I spoke to parents with young children, some of whom had visited it with their parents as youngsters, passionate about saving the park. All agreed that the Gardens have been neglected by the Council and want to see them improved and restored, not razed.
The picnic was attended by several councillors, both for and against the City Square Project. Unfortunately, I neither saw nor had the opportunity to talk with any of those representatives, having been particularly keen to chat to Councillor Cormie who had been vocal in his intentions to visit and allay "misconceptions" people have about the Project. I asked one gentleman if he had seen any councillors and he pointed in the direction of the stairs, saying, "He's up there talking *****". I was unable to verify this.
Councillor John Corall also attended the picnic. An interview with him can be found here:
Having watched this several times, the words 'professional' and 'suicide' come to mind. Councillor Corall visited the Gardens to explain why the City Square is a good idea. His decision to discuss it in the same conversation alleging "massive overspends in social work areas", was not particularly effective in ice-breaking as it swiftly led to a stand-off with an angry, but very eloquent social care worker who wanted to know specifically which areas of funding he intended to cut.
Councillor Corall also failed to answer concerns over commercial consequences raised in the Halliday Fraser Munro report and the omission of such crucial elements as VAT from the estimated cost of the Project. He stated quite clearly, more than once, that he'd like to "wait and see".
The picnic was covered by journalists from the P&J, EE and STV. Their reports were, on the whole, relatively even-handed. STV transmitted quite an enjoyable segment including interviews with some angry people. Each gave the turnout as around 300, although event organisers Friends of UTG, counted around 1000 and collected 381 letters to councillors. It is possible, I suppose, that none of them can count and one enthusiastic individual single-handedly wrote 81 letters.
ACSEF has hastily renamed the City Square Project 'The City Gardens Project', believing that the original name and conceptual drawings, showing concrete and impressive fully-grown trees, may have been misleading, and are largely to blame for people's discontent. This, in the same week as Aberdeen University's Centre for Transport Studies floated the idea of a transport hub where the Gardens stand now, seemingly replacing the car park originally planned for City Square, sorry, Gardens.
ACSEF's press releases and its habitual modifications of their intentions do nothing to allay people's fears. They serve only to show how ACSEF believe the people of the area are unenlightened. It was suggested to me this week that we might wake up one day soon and find that ACSEF are now ACSLG (Aberdeen City and Shire Landscape Gardeners).
"Surely this will gain the trust of the proles and dispatch those troublesome protesters back to their Arts degrees and Pot Noodles?" they may muse to themselves.
Article by Vicky Rider