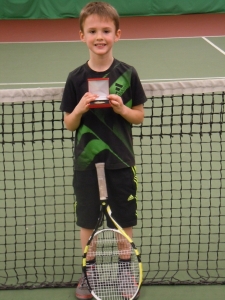 With thanks to
Dave Macdermid. 
The inaugural NESLTA 'Green' level boys and girls invitational competitions, held at Westburn Tennis Centre, were voted a great success Rubislaw's Jamie Connell emerging victorious from the eight contestants ahead of runner-up Angus Edwards (Cults), Harrshra Pradeep Kumar (DL Aberdeen) in third and fourth placed Greg Smith (Alford).
In the girl's final, Rachel Gibson made it a Rubislaw double edging out Amy Spiers (Cults).
District coach Vikki Paterson, who organised the event, was delighted with the standard of tennis on display. "It was extremely competitive with some fantastic tennis on display and all of those who participated said they'd really enjoyed the experience."
Westburn Tennis Centre also hosted a Tennis Scotland Under 8 Red competition in which Cameron Jappy (Westhill) and Ewan Smith (Westhill/Alford) continued to impress, with Cameron came out of top on this occasion, beating Ewan 7-5, 7-3 in the final.
Benjamin Hine and Sam Walker finished in 3rd and 4th place.