With thanks to Dave Macdermid.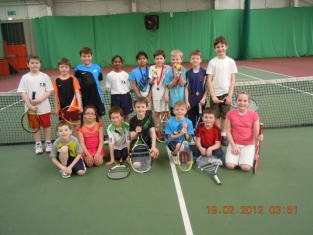 Westburn Tennis Centre was the venue for the first in a series of eleven invitational 'Orange Matchplay' events for sixteen young North East tennis players, with those involved being divided into two groups and competing each month.
Jamie Connell (Rubislaw) won the Tier 1 event, with Harrsha Pradeep Kumar (DL Aberdeen) being a very close runner up.
Euan McCleod(Cults) was unbeaten in the Tier 2 event , finishing just ahead of Cameron Sharpe (Westhill).
NESLTA district coach Vikki Paterson, who organised the series of events said:
"The standard of tennis was very good and hopefully over the next 11 months the tennis will continue to improve and we will witness lots of good competitive matches."
36 year old Aberdonian Jason Barnett reached the semi-finals of both singles and doubles at the ITF World Seniors Individual Championships played in La Jolla, California.
Seeded 5 in the Men's 35 age group singles, the Scot, now based in Kent, won through four rounds of matches, before finally losing to Benjamin Budziak of Poland at the semi-final stage. Omitted from the GB team which competed in San Diego at the previous week's World Team Championships, Barnett proved a point by progressing further than any of the other GB players in the individual event.
In the Men's 35 doubles, Barnett was disappointed to go out at the semi-final stage.   Seeded 2 with England's Neil Goldsby as partner, the duo lost at the semi-final stage to the Finnish pair of Tapio Nerminen & Ilkke Raikonen 6-4 6-4 in a closely contested match.
Barnett returns to Scotland this week to compete at the Scottish Senior's Open Championships, an ITF Grade 3 event.  Top seed in the Men's 35 singles event, he is seeded to meet England's Mike Ingham in next Sunday's final, and hopes to retain the title which he won in 2011.
Over 200 players from all over the world will contest 18 events at venues throughout Glasgow this week.    Play starts on Thursday 23rd February, with all finals scheduled for the Scotstoun Leisure Centre, Glasgow on Sunday 26th February.
Scottish players will be hoping to perform well, ahead of this year's Home Nations' Seniors Championships, which will be hosted by England at Bolton Arena from 5th – 7th May.